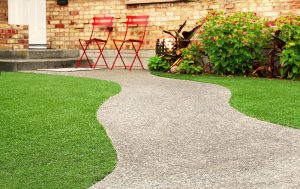 By having artificial grass supplied and laid by the experts at Easifit Flooring, you won't have to worry about your garden becoming waterlogged, overgrown or being in a poor condition ever again!
Looks great all year round and is maintenance free!
The beauty of artificial grass is that it looks stunning regardless of the weather. A big plus for any business or homeowner is that artificial grass is low maintenance. Once it has been laid, there is nothing more you need to do other than sit back and admire it. With a range of different shades to choose from, our artificial grass options are guaranteed to provide years of effective, attractive and reliable use.
With extensive experience in artificial grass, we are able to use specialist techniques to make it look just like the real thing.  For instance, we will cut round exposed tree roots and edge up your grass to borders and paths in the same way that real grass would.