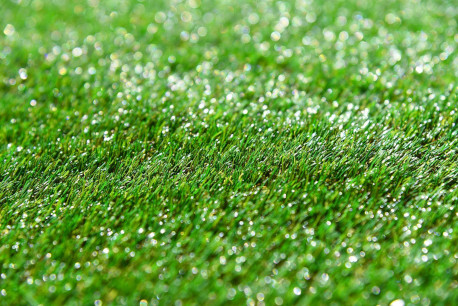 31 Aug

Is artificial grass safe in the sun?

We cannot deny that we have been lucky with the sun so far this summer, but we can notice is that it has taken its toll on the natural turf of our streets and parks. What happens to artificial grass in this level of high heat? There are myths we frequently hear about which state that, over prolonged periods of time, synthetic grass could overheat and may eventually even reach the point of melting. Whilst this may have been the case with first generation artificial grass (although, we are still unsure about it having the ability to melt!) this most certainly isn't the case today.
Is artificial grass safe in the sun?
To put it simply, yes. Artificial grass is safe in the sun. Even with the soaring temperatures we have witnessed over these last few weeks, artificial grass will remain intact, and safe to use.
Does artificial grass get hot in the sun?
Whilst synthetic turf is safe all year round, there is no denying that it will get hot on those sunnier days, just as you'll find your patio will. For the safety of pets, we would extend the same advice about pavements onto artificial grass. On days of extreme heat, animals should find a cool place to rest during the day that is off of the turf. As it is artificial, it will not hold the same cooling effects as natural grass and could be uncomfortable for their delicate paws.
How do you keep artificial grass cool?
Utilise the shade
Natural shade is always ideal on those warmer days, but it isn't always available. If you are lucky enough to have a nearby tree or outhouse that casts a shadow on your lawn, you can depend on it being cooler and more comfortable in that location. You can also create artificial shade by planting new shrubbery or introducing awnings and umbrellas to your garden.
Cool down with water
A simple sprinkling of water of your hosepipe or sprinkler will be enough to cool down your artificial lawn almost instantly and, as an added bonus, the absence of soil on the surface means that you won't be left with any soggy, muddy spots left behind!
Choose a reliable type of artificial grass
When it comes to your artificial grass, choosing a high-quality material, supplier, and installer is vital. Whilst it can be tempting to save as much money as possible, choosing a solution on the cheaper side of the scale could lead to problems in the future. This can include whether or not it is able to withstand the level of heat we have recently been hit with.
At Easifit Flooring, we can provide and install artificial grass of the highest quality in a selection of shades that will require no further maintenance post-installation. To speak to our specialists about having realistic yet synthetic turf laid in your garden, get in touch. Give us a call on 0800 096 1171 or send us an email at .