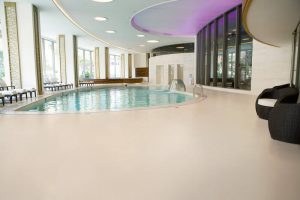 Preventing accidents in the workplace will ensure a more productive and relaxed environment. Perfect for commercial flooring installations, our range of safety flooring solutions is sure to improve everyone's safety and create a cleaner, more efficient working environment.
Made from the finest and most reliable materials by some of the industry's leading manufacturers, our safety flooring is perfect for areas where slip resistance is most important, including bathrooms, changing areas and commercial kitchens. Our safety flooring is also suitable for surgeries, leisure complexes, restaurants, healthcare facilities and hotels.
Our safety flooring reduces the risk of slips and trips
Incredibly slip-resistant, our safety flooring options will dramatically decrease the risk of your employees, customers or pupils slipping and tripping as they go about their day, making for a more comfortable, relaxed and, above all, safe environment.
We work with the biggest names in safety flooring
As one of Kent's leading flooring contractors we have close working relationships with many of the industry's leading safety flooring manufacturers, including Altro, Gerflor and Polyflor. The savings we make when ordering from these companies are passed down to you through our competitive and budget-friendly prices.