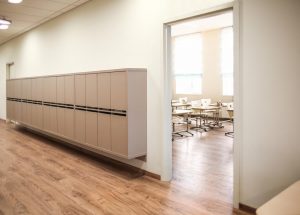 Highly resistant to the stresses and strains of daily school life, our laminate and vinyl flooring materials are the most cost-effective, reliable and durable school flooring option. As one of Kent's leading flooring contractors, we specialise in providing schools and educational establishments from across Kent, London, Surrey, Sussex and Essex with the complete school flooring installation service, encompassing everything from the initial plans right through to the installation itself. Our wide range of school flooring ensures that your needs are met and your new floor is safe to be used over a very long time.
Offering 40 years of experience in fitting a variety of designer flooring, we have established a professional understanding of designing and installing school flooring.
With competitive prices and high quality designer school flooring products, we are often a customer's first choice. We offer a variety of designer brands perfect for almost any application so that schools can find exactly what they need, be it fibre bonded carpet and vinyl flooring.