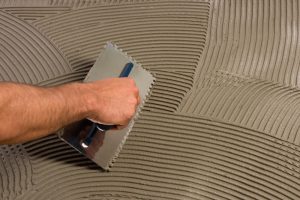 A brand new floor is only as good as the surface below it. If the sub-floor is not properly prepared or protected, you will soon find bubbles, creases and lifts in your new floor, no matter how well it was fitted.
At Easifit Flooring, we specialise in sub-floor preparation, saving our clients time, hassle and, above all, money on future repair or replacement bills that can easily add up if the sub-floor is not finished effectively.
Why have your floor prepared?
The most important thing is that your floor looks it's very best at all times. To avoid your carpet, vinyl, safety flooring, linoleum or rubber flooring from creasing or bubbling and costing you a fortune in future replacement and repair bills, you need a professionally prepared sub-floor using WBP plywood, hardboard, smoothing compounds, latex screeding and the appropriate underlays, if required.
We use the most proven sub-floor preparation techniques and equipment
Having worked in the flooring industry for 40 years, we have access to the finest sub-floor preparation products and equipment from many of the world's leading manufacturers, including:
No matter what high quality sub-floor preparation we use, we will ensure that your floor is in perfect condition before the installation process can truly begin.