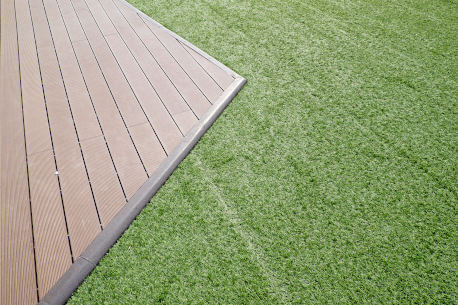 25 Aug

Why artificial grass could be beneficial for your garden

Are you re-modelling your garden, moving to a new home or simply fancying a subtle change? Artificial grass has always had its fair share of negative comments, but are you aware of just how much it could benefit your home and you as the homeowner? Today, we summarise the positive features of artificial grass so that you can see if it may be the right choice for you.
Say goodbye to weeds and vermin damage!
More often than not, natural grass can be overcome with weeds or pests, all of which cause damage to the grass and is often extremely difficult to reverse. Being synthetic, artificial grass doesn't attract any of these natural destroyers, allowing your lawn to remain untouched and undamaged.
Be rid of those muddy floors!
Here in the UK, it is unlikely that we can go a full week without any rainfall. When your natural grass gets wet, the mud and soil gather and form a substance that appears to stick to the bottom of each shoe, paw or item of clothing and before you know it, your home is full of dried, dusty mud. Artificial grass is laid without the use of turf or soil, meaning that should the rain dampen your grass, you won't have to worry about muddy trails through your home.
Elimination from the hose-pipe ban?
During the hot summer months in the UK, it is not uncommon for us to come across a hose pipe ban. As a result of this, you will see a regular occurrence of brown, dried lawns from home to home where their grass is lacking the essential hydration it needs to stay alive, green and healthy. Although you are not physically excluded from the hose pipe ban, you sure won't be as affected as other households in your street as your artificial grass will not require that daily supply of water to remain strong and healthy.
Increased life expectancy
Natural grass and turf will need regular maintenance to ensure that it stays looking its best, as weed, drought or pest damage is often hard to reverse. With artificial grass, you can leave those worries behind. With no need for regular treatments, you can guarantee that your artificial grass will outlive the natural lawn of your neighbour – sometimes even up to 15 years!
Put those pennies away
As mentioned above, artificial lawns will not require regular treatments. This means no gardeners' fee, no fertilizer fee and no pesticide fee. All of these factors, compared to those spent with natural grass, will allow you to save those pennies for a rainy day or put them towards something that you have been saving for.
Here at Easifit Flooring, our team are experts at fitting and laying artificial grass to a number of locations, such as schools, football pitches and home gardens. If you would like more information on how our synthetic lawns could be beneficial for you, feel free to get in touch with us by calling 0800 096 1171 or dropping us an email at  where we will be happy to assist you.