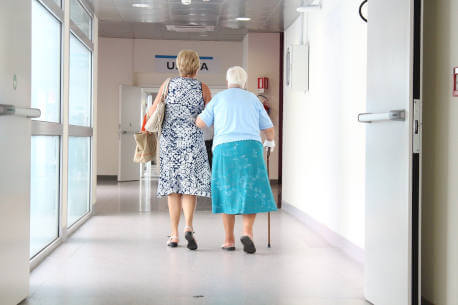 26 Feb

Benefits of Cap and Cove Flooring

Cap and Cove flooring is the perfect safety flooring system for spaces where health and safety are primary concerns. It's an approach that enhances the hygienic properties of safety flooring, is highly durable, allows for easy cleaning, and can be tailored to match your existing design scheme.

Cap and Cove flooring is commonly seen in healthcare facilities, surgeries, nursing homes, restaurant kitchens, schools, hotels and other communal areas. The costs are very competitive, especially when compared to tiled flooring.
What is Cap and Cove?
Cap and Cove is a sheet vinyl flooring system where the flooring continues up the wall. A Capping strip runs across the wall and along the top of the flooring, to ensure a sealed, finished fit that's hygienic and easy to maintain.
Benefits of Cap and Cove
With Cap and Cove there are no seams between the floor and the wall where harmful bacteria can hide and breed. It ensures that dirt and germs on the floor are not swept towards corners and seams or into crevices that are difficult to properly clean.
Cap and Cove flooring has the following benefits:
Hygienic
Spaces where hygiene is paramount include hospitals and restaurant kitchens. In hospitals, rooms need to be easily cleaned to prevent harmful germs spreading infections. A Cap and Cove vinyl floor is a simple and cost-effective solution. The vinyl flooring ensures there are no corners to trip on, that spills can be quickly cleaned up, and that sterility can be maintained with regular cleaning.
Safe
Vinyl floors are designed to withstand a huge amount of traffic. They will not wear down even in the most frequented areas. Safety vinyl floors have a durable anti-slip surface that protects users without causing excessive friction underfoot. They provide supervisors with the peace of mind that there will be no unnecessary injuries to both employees and members of the public.
Easy to clean
Vinyl flooring is inherently easy to care for and helps to prevent unnecessary accidents. This explains its popularity in hospitals where there are frequent spills of liquids and even bodily fluids. With vinyl Cap and Cove flooring, spills can be quickly cleaned without delay, and left to dry in the air. Special cleaning chemicals can be used where necessary and there's no need to worry about unsightly stains.
Durable
Vinyl Cap and Cove flooring is designed to last a very long time. It's extremely durable, stain resistant, easily maintained, and highly resistant to wear and tear. When properly installed it can last not just years, but decades.
Many design options
Design is an important consideration, even in spaces where hygiene and safety are primary concerns. No one said safety floor has to be boring. As well as being practical, vinyl Cap and Cove flooring comes in a wide range of colours, styles and textures that can complement any design scheme.
How does coving work?
With coving, the floor covering extends to cover the bottom of the wall. The coving is installed at the joint between the floor and the wall to create a finished curve running up the side of the wall.
How does Capping work?
Once the coving has been fitted, an additional capping strip is installed to enhance the look of the floor covering and provide a neat and hygienic finish to the floor and coving.
Want to know more about Cap and Cove flooring and how it could work for your space? Just talk to our Easifit Flooring team for expert advice or a free no-obligation quote. We're on 0800 096 1171 and at .