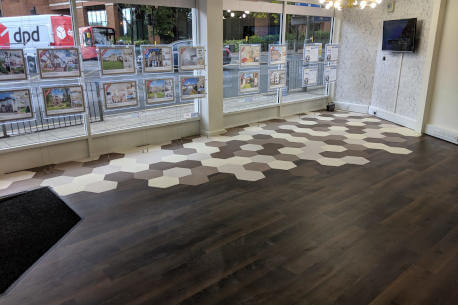 27 Jul

Flooring budget guide

When choosing a new type of flooring to lay within a commercial property, we typically decide on our final choice based upon the quality and the cost of the materials. This month, we have created a simple guide on what end of the budget scale our high-quality flooring types appear on when purchasing from us here at Easifit Flooring. Of course, for accurate costings we recommend contacting our team who will be able to advise and assist based on your specific requirements.

It is important to remember that, with any type of flooring, there will be additional factors which equate to added costs and work, such as the laying of the base (otherwise known as the sub-floor) or removing any current flooring to make way for your new choice.

When deciding on a floor to lay within a commercial property, you will require a type of material which is hard-wearing and durable. For this, there are a variety of options available.
Luxury vinyl tile flooring
Luxury vinyl tiles (LVT) have progressed in the flooring world and now require limited amounts of preparation work, reducing installation costs. Our links with some of the largest LVT manufacturers also results in a reduced price which is beneficial to you. Overall, LVT could be one of the most cost effective but high-quality flooring options for your commercial property.
Commercial carpet and carpet tiles
Our commercial carpets have proven effective within buildings with heavy traffic, such as pubs or office blocks. They also provide you with the opportunity to save your pennies as they hold the additional effect of thermal insulation, preventing any heat escaping and therefore lowering your energy bills.
Carpet tiles are available in a range of styles and colours but lack the thermal insulation which commercial carpets hold. However, they do prove to be cost effective due to their simple repair work. By removing only the damaged carpet tiles, there will be no need for a full floor replacement, saving you from spending any unneeded costs.
With both commercial carpet and carpet tiles, there will be a cost for the installation as well as a separate cost for the material. However, these costs tend to appear at the lower end of the budget scale due to their simple installation and the fact that there is often only very little, if any at all, sub-floor preparation.
Safety and Lino flooring
The cost of safety and lino flooring materials can be within the lower end of the budget scale, however, due to its need to be secure and safe for areas such as toilets, bar areas and leisure centres, safety floor and lino need maximum preparation of the subfloor and a longer time allowance for the floor to be laid, capped, coved and made watertight. These factors combined will increase installation time and costs, moving it higher up on the budget scale.
Rubber flooring
Rubber flooring can vary in effects and styles, resulting in some forms equating to a higher cost than others. All in all, rubber flooring is extremely hard wearing and durable so would be great for sports halls or car parks as the slip resistance is one of the highest of all of our flooring types. Some forms also consist of a self-sealing function. These ultra high-quality functions will increase the placement of this flooring type on the budget scale, moving it up to the higher end but you can rest assured that the risk of repair or replacement work is extremely low.
In store, we have samples of a wide variety of flooring options in a range of colours and styles. Whether you are seeking a flooring material for your commercial property, or your home, we will be happy to assist and advise you on your best suited options with a reliable quote tailored to your requirements. Get in touch with us at Easifit Flooring by calling 0800 096 1171 or emailing us at .