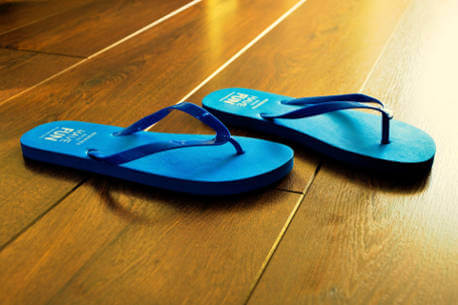 25 Jul

Caring for your floors in the summer heat

Most of us love a bit of summer warmth, even if we aren't quite used to having so much of it or for such a long spell. But our flooring may not love it quite as much as we do, as the heat can warp, swell, or crack it. Our focus this month is on how to look after your flooring in the heat of the summer and what you can do to prevent any potential damage.
The effects of a hot summer
It is not just the heat that can affect flooring. Direct sunlight and high levels of humidity also play a part. High humidity levels can affect wood or laminate through expansion and contraction, which could lead to swelling and cracking. Increased humidity levels can also lead to glues dissolving, which can ultimately lead to your floor decomposing. Exposure to long periods of direct sunlight will lead to fading for vinyl and luxury vinyl tile floors, while high temperatures can lead to an expanding subfloor causing the flooring to lift, or to a subfloor to overdry as all the moisture evaporates, leading to cracked tiles.
What can you do?
While you can't control the weather, there are a few things you can do to prevent damage.
If you have air conditioning at home, do use it as it will keep the indoor temperature and humidity levels more constant, avoiding large changes which is what ultimately leads to damage.
Draw the curtains or lower the blinds. This way you will keep the sun out, particularly during the hottest parts of the day. As a bonus, it keeps your home cooler as well!
Invest in a dehumidifier. They are cheap to buy and inexpensive to run, and can save you a lot of money in flooring repairs or replacement in the long run. If your home suffers from high humidity levels all year round, then run it in the winter too – it will keep the humidity constant, and it will also make your space feel warmer.
Clean frequently. Over the summer there tends to be a lot more traffic as kids, guests, and pets traipse in and out of the garden. Keeping on top of any liquid spills and dust and dirt will protect your floors from scuffs as well as from the effects of the heat.
Remove shoes. An easy way of keeping outside dirt out is to remove shoes when entering the house. Who wants to wear shoes when it is this hot anyway? And you have probably just cut down on the amount of cleaning you have to do too.
Seal your floors. If you have stone flooring getting it properly re-sealed every few years will help lock out moisture and stains.
Steam it. For carpets, a deep clean using steam is a good idea over the summer anyway, but even more so in a heatwave. Removing any excess moisture will prevent it from mildew build-up which could be an expensive replacement job.
For advice on how to look after your floors, or for a quote for new flooring installation talk to us at Easifit Flooring. With years of expertise under our belts we are well placed to help with all your flooring needs. You can call us on 0800 096 1171 or email us at for a chat or a free quote.