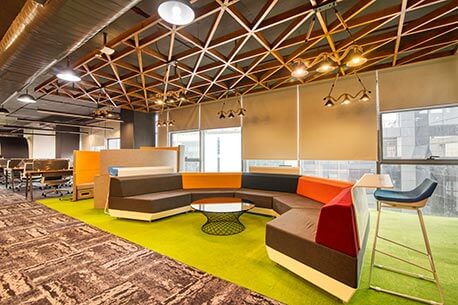 25 Nov

The benefits of carpet tiles in the workplace

Are you looking for a way to add colour, warmth, texture and an element of welcoming comfort to your workspace? If so, carpet tiles may be the option for you. With several benefits for multiple locations, from nursery spaces and classrooms, to office fit out's and hotel rooms, you may have just found your perfect flooring type!
What are carpet tiles?
Simply put, carpet tiles are small squares of carpet, manufactured to be joint together to create a safe, durable and simply maintained floor. With the option of multiple patterns, textures and tones, carpet tiles are a quick, simple and effective way to add personality to a room.
What are the advantages of carpet tiles?
Let's take a look at the ways carpet tiles could benefit your requirements:
Installation
From the classroom, to an office's raised access flooring, carpet tiles are the simplest form of floor covering for installation. Extremely versatile, they can mould to fit any sized space, no matter the existing floor type. Installation is simple and time-effective with no requirement for underlay. Just simply connect the tiles and your flooring is good to go!
Pricing
The tiles themselves are commonly available in a variety of measurements, allowing you to select the perfect size for the space you are looking to fill and upon completion, finding less waste, resulting in a cost-effective flooring solution whilst also remaining ethically sustainable.
Maintenance
Carpet tiles are simple to clean and simple to replace and repair – what more could you need! With a simple hoover, your carpet will be as clean as it was upon laying with no need to deep clean or scrub. Repair and replacement work are also straightforward due to the ability to lift and remove one individual tile without causing disruption to the rest of the flooring, or the workplace surrounding it.
Durability
There is a reason for carpet tiles being chosen so widely across educational and office spaces, and that is their dependency for durability. Although not all carpets provide the same level of resilience, there are factors that you can tailor to meet your requirements that will, combined, create the flooring durability that you are seeking. From cushion-backing to low pile and looped, you can be sure that no matter the footfall or moving of chairs and desks, that your carpet will remain intact and safe from trip and fall hazards.
If you have decided that carpet tiles are the perfect solution to your flooring needs, or if you require any further information on this or any other flooring type, get in touch with a member of our Easifit Flooring team by calling us on 0800 096 1171 or emailing us at where we will be happy to help.