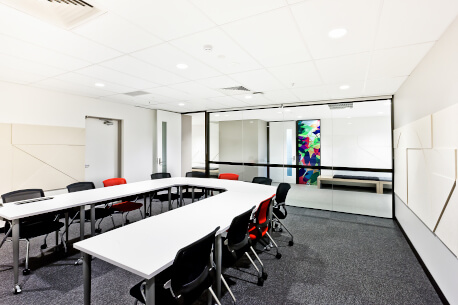 28 May

Why are carpet tiles a good choice for offices?

When it comes to office flooring solutions the choice can be overwhelming.  Deciding how to cover the floor is a significant decision, not least because you want to ensure you give visitors a great first impression of your company by making your office space welcoming, you will also want to make the space functional and comfortable for those that work in it on a daily basis.   In this article, we are going to focus specifically on carpet tiles.  If you are thinking of installing or replacing your commercial flooring, read on to find out if carpet tiles would make a great choice for your office space.
Advantages of installing carpet tiles in your office space
There are many advantages to installing carpet tiles rather than heavy, hard to install, traditional carpet rolls that leave little room for change. Let us take a closer look:
Durability
Designed for high-traffic areas, carpet tiles are durable enough to take hundreds of people walking on them on a daily basis without wearing them down in a hurry.  Plus, carpet tiles are comfortable to walk on and create a softer walking surface than wood or vinyl floors.  Carpet tiles also reduce the sound caused by a shoe's sole or heels which can be very distracting in a working environment.
Simple Installation
Carpet tiles are hassle free to lay.  Each tile goes on individually, eliminating the need to lift and manoeuvre heavy carpet rolls, or use sharp carpet knives.  Installing carpet tiles is non-invasive due to the pressure-sensitive adhesive used on the tiles.  When the adhesive part of the tile is exposed, the tile is placed on the desired location on the floor, pressure is then applied to make it stick.  The vinyl backing stays bonded to the fabric that lies on top of the tile.  Plus, the glue never fully hardens, making the tiles easy to take off and replace if you need to.
The tiles are easy to modify which is particularly useful for quirkily shaped rooms and awkward corners, ensuring each tile fits perfectly to your space to create a seamless finish.
At Easifit Flooring, we will install your new flooring outside of your office working hours to minimise disruption to your staff and customers.  We can work overnight, on weekends and holidays to get the job done quickly and to a high standard.  With carpet tiles, we do not need to completely remove furniture during installation, so the amount of upheaval and disruption caused is very minimum.  Carpet tiles are a great choice for heavily furnished rooms.
Design and versatility
With Easifit Flooring you will have access to the finest carpet tiles in a wide range of different colours, styles, and patterns, from many of the world's leading manufacturers.  Plus, each tile goes on individually so you can easily change the pattern to suit your tastes or needs.  You may want the tiles to highlight different work areas; one pattern or colour for breakout areas, one for desk areas and another for meeting/client facing areas, and so on.  You may even want to get creative, mixing and matching the designs and colours to brighten up your office, or to make a statement feature.
Darker colour tiles are popular for hallways and other high traffic areas and they are a little more forgiving at hiding dirt build up at the end of the day.
Full or partial coverage?  Carpet tiles provide the option of having wall to wall coverage, like a traditional carpet roll offers, or you may decide to cover only certain areas of your office with carpet.  You may decide to put carpet tiles down in the offices for a nice, clean look but leave the hallways and kitchen areas with hardwood or vinyl floors.  Area rugs can also be created by placing a group of tiles together around areas where chairs are so that the chairs do not scratch the floor.  This is often a popular choice as it helps to create a modern, stylish office while still protecting the floor and proving practical to the needs of an office.
As well as providing a safe and reliable footing, the versatility of carpet tiles also allows easy and convenient access to under-floor wiring and plumbing.
Easy to maintenance and replace
A daily vacuum is all you need to maintain carpet tile flooring, there is no need for expensive carpet treatments or professional cleaning.
Found one single floor tile that has become worn or damaged?  Rather than have to spend more money on costly, whole floor replacements (or a whole roll of carpet) it is easy to replace just a single tile and make the switch, quickly and easily.  So many commercial clients ask us to install their new carpet tiles for them for this very reason; they know that replacing just one, or a few tiles, is quick, easy, and cost effective.  It is particularly useful for solving spill stains and worn high traffic areas.
Carpet tile flooring really makes a great choice for offices as it offers so many benefits including, stylish designs, versatility, durability, easy maintenance, and simple installation.  If you are thinking of installing or replacing commercial carpets in your workspace, don't hesitate to call our friendly team for a chat or a free quote.  We would love to help.