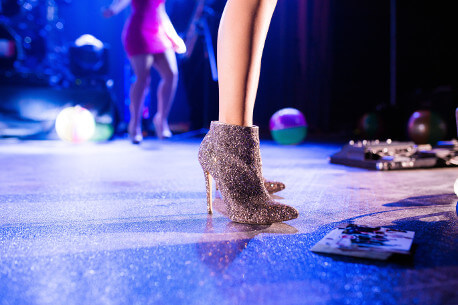 26 Nov

Christmas party season – time for slip-resistant flooring?

It's that time of year when things start to feel festive and the Christmas party season is gearing up to its full swing. You may be planning your own company Christmas party or you may have a number of invitations from clients, suppliers, partners, and friends – or more likely, both. Usually, safety flooring isn't the first thing on most people's minds unless they work in an industry or organisation where it is either a requirement or a recommendation, such as kitchens, bars, gyms, schools, medical and care facilities, or you have young children or elderly relatives at home.

With the party season upon us the prospect of being responsible for party guests and a greater likelihood of spills and trips we take a look at how safety flooring could be something worth considering regardless of the industry you may operate in.
What is safety flooring?
Safety flooring is that which comprises materials that are slip-resistant. Extremely important in those areas which have a higher risk of slips and trips – typically in sectors such as the hospitality industry, retail, healthcare, education, and manufacturing. Any commercial properties, such as the more heavily used areas in office buildings including cafeterias, hallways and entrances, lobbies, and even parking garages, could also benefit from slip-resistant flooring to minimise the potential for accidents by staff and visitors alike.
What are the best types of safety flooring?
Safe flooring probably conjures up images of industrial-looking options that may not be quite what you have in mind for your stylish office lobby or modern cafeteria. However, this need not be the case. There are a number of options on the market that meet both regulatory requirements for non-slip flooring as well as even the most demanding style and design requirements.
Our top recommendations for indoor areas include:
Vinyl offers a great variety of options in terms of colour, pattern, and style to choose from, making it a very popular choice in a wide range of industries including education, hospitality, and healthcare.
Another great option, linoleum has the added benefit of being a more sustainable product as it is primarily made of natural materials and can also incorporate a significant proportion of recycled material as well. Hardwearing and available in a diverse range of colours and designs, making it easy to match your existing décor if you are renovating and simple to include within your designs if you are starting from scratch.
Both flooring materials are easy to use and to clean and linoleum also has natural anti-bacterial properties. If you are looking for a shorter-term solution to use during the party season, or if you are expecting higher footfall due to the forthcoming holidays, then there are a couple of options available to you too, including:
Entrance mats. These can be placed near entryways and doors, allowing visitors to wipe their shoes and remove any mud and water they may have picked up and stop it from tracking across the floor increasing the risk of slipping.
Floor coverings. These can be used to protect particular sections of flooring and are laid down in an interlocking fashion, making it easy to install and remove as required. They come in a variety of grades from the coarser option for industrial use to finer grades more suitable for commercial spaces.
Whatever you may be looking for when it comes to safety flooring, whether temporary or longer term, talk to our Easifit Flooring team to find the perfect material for you and your business. Find us on the phone on 0800 096 1171 or on email at and we will help you find the right flooring to make this Christmas safe as well as fun.