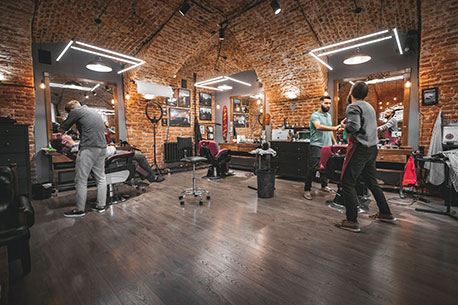 25 Jan

The benefits of vinyl flooring in commercial spaces

With 2022 newly underway, you may be considering ways to spruce up your commercial space to welcome the New Year. Why not start with the floor? It can often seem daunting, with so many options available. How can you make sure it lasts? How can you make sure it's safe? Allow us to lend a hand of expertise.

In commercial environments, endurance is often required as foot traffic is usually high and therefore, the need for hygiene is also elevated. With these factors in mind, we would point to the superior floor choice for the majority of commercial spaces – vinyl. Vinyl is a flooring material that provides all round simplicity with high quality benefits. These include…

Durability

With heavy footfall throughout your premises each day, your flooring choice will need to be durable. Withstanding traffic without splitting, curling or lifting will allow your commercial space to remain hazard-free. Vinyl is extremely hard-wearing, keeping your customers safe whilst looking as good as it did when it was once laid as time passes.

Cleanliness

With footfall at a high, your commercial premises will want to remain hygienic. Whilst wooden floors can require special treatment, vinyl flooring's water resistant qualities allow deep cleans to take place without causing damage. Vinyl really is fuss-free! Remaining impermeable to water, you can rely on a stain-free floor without any effect on the bonding materials. Your floor will be gleaming, safe and visually pleasing.

Style options

As well as practical, of course you will want a flooring option that remains visually pleasing. Real wooden floors have a natural beauty that can be imitated with vinyl planks. The visual difference can be unnoticeable. Available in a range of colours, textures and designs, you can complete your interior with the perfect floor to match your taste.

Installation

With a handful of varying vinyl flooring types, a few installation methods can be utilised. From loose lay to interlocking and adhesive, there is something to suit everyone and every commercial space. Each method results in floor that refrains from shifting, separating, or lifting, so you can rely on safety throughout your premises.

Cost-effective

As durable as vinyl flooring is, accidents can always happen. Thankfully, the handy installation methods of vinyl planks make way for simple, cost-effective repair work. You won't have to deal with the hassle of lifting your entire flooring. Instead, the single damaged plank can be lifted and replaced without affecting the rest of your floor.

For more information on vinyl flooring, or to speak with one of our expert flooring contractors, get in touch with us at Easifit Flooring. Give us a call on 0800 096 1171 or drop us an email at and we will be happy to advise and assist in renovating your commercial premises for a fresh start this year.