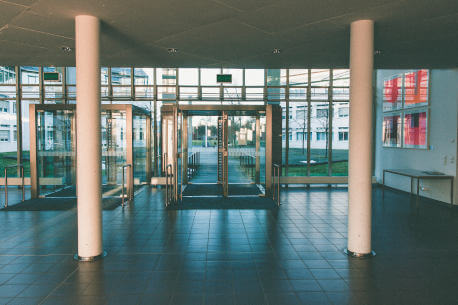 28 Apr

The flooring series: Choose the right entrance matting

An entrance mat contributes to that all-important first impression that your building offers to visitors, but its purpose isn't just to create a tidy look. It also has many important practical uses. With a variety of materials and functions to choose from, there are many reasons that high-quality entrance matting may enhance the durability, performance and design of your premises.

When you think about the entrance to a building, you expect it to be neat and simple. It's easy to underestimate the role that your entrance matting performs and the positive effects it will have on your premises. With this in mind, the choice of materials, functions and design of your entrance matting suddenly becomes far more important than expected at first. Some of the main points to consider, are:
Health & Safety
In addition to generating a good first impression, entrance matting performs an important health and safety role. With our UK weather, we can expect occasional rain. Combine this with the types of materials often used in reception and retail spaces, slips and falls can be inevitable. Whilst some organisations will deploy temporary matting to absorb rain and moisture, these types of temporary mats come with their own set of challenges and can, in some instances, increase the risk of trip hazards on your premises. Well designed and fitted matting will absorb moisture and dramatically reduce slips or falls without creating the opportunity for trip hazards.
Maintenance and repairs
It is inevitable that external contaminates and debris, such as dust, grit, salt, moisture, and in some cases chewing gum, will make their way into your space and require immediate cleaning and removal. In some cases, these contaminants can cause long term damage, such as scratching and scoring, which will require expensive repair and maintenance. High-quality fitted mats are designed to remove debris before coming into contact with your main flooring and could therefore extend the life and durability of your main floor.
Design
Unlike temporary matting, fitted matting comes in a wide range of materials, each with their own look, feel and performance. This means that your fitted mats can be specified to not only match your external environment, but to complement your interior design and can be chosen specifically to match your corporate branding and colour scheme.
If you would like advice on how entrance matting could benefit your premises, give our friendly and experienced team at Easifit Flooring by calling 0800 096 1171 or emailing us at where we will be happy to help.