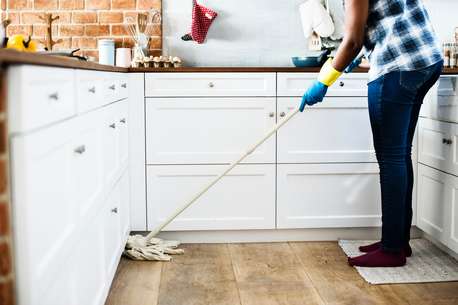 24 Sep

Getting your floors ready for the cold weather

We may still be getting lots of warmth during the day, but the truth is that the hot summer is over – evidenced by the cooler temperatures and rain of late. But while we can still enjoy those last warm rays of sunshine, it is also a good time to prepare for the next season, when we have more rain and wind and an increasingly cold and dark period as we head into winter. To help you, and to make it a much easier task, we have put together a few tips this month on how to do that so you maximise that sunshine time without a rude awakening when that cold does come around.
A deep clean
When transitioning from one season to another it is a good opportunity to undertake a deep clean of your floors. This means different things for different flooring types, but in general it involves more than a quick vacuum. It could include:
Vinyl, tiles, laminate, and linoleum. After a good vacuuming, making sure you get in between the joints and cracks, use a damp mop to get rid of all lingering stains and dirt. Don't be tempted to use harsh chemicals or abrasive scrubs if you have any stubborn stains. Instead, use a mild solvent such as WD-40, white spirit, or washing-up liquid (check the manufacturer's guidelines or talk to your fitter for the right cleaning agent for your type of flooring) and make sure you rinse and dry well.
Wood. Vacuum and mop well, but be careful not to use too much water or you could cause the wood to swell and even split. For unsealed wood use wax to bring it back to life, but ensure that you use sparingly and that you buff well, removing any excess which could leave you with slippery surfaces.
Carpet. If you have carpet you could either invest in or hire a steam cleaner, or get a professional in to do it for you. Steam cleaning removes even deep-seated dirt, which could lead to allergies, and spruces up your carpet making it look as good as new.
Entrance mats and shoe racks
Most of the dirt that finds its way into our homes comes from the outside, riding in on the bottom of our shoes. A well-placed entrance mat will soak up any excess water, trap mud and dirt, and minimise what you bring in from outdoors. A shoe rack near the front door will keep dirt out completely if you make sure everyone who comes in removes their shoes and leaves them at the door. Don't forget to wash and dry them well from time to time to avoid a build-up of dirt and mud which will eventually find their way into your clean home.
Rugs and runners
Keep stubborn dirt and stains clear of your floors by using rugs and runners that are easy to wash and dry and can be placed on top of whatever your flooring – even carpet. They can also add a nice splash of colour to your home, bring a change in for the winter season, and add some warmth underfoot, particularly if you are removing your shoes and leaving them at the door when you come in.
For more tips and tricks on cleaning and looking after your floors whatever the season, talk to our team of experts at Easifit Flooring. We're on the phone on 0800 096 1171 and on email at for all your questions. And if you are thinking of installing or replacing your flooring, we can help with that too!