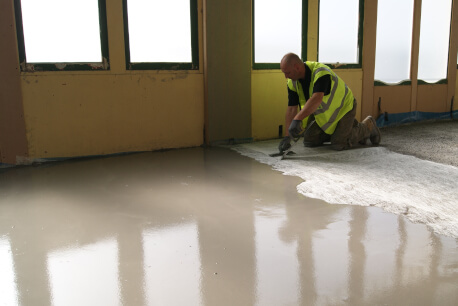 22 Feb

The importance of subfloor preparation

When it comes to laying fresh flooring from scratch, subfloor preparation is an essential step to take, ensuring you are provided with an even finish that is free of unsightly lumps, bumps and holes, and that your flooring has longevity on its side. With many DIY property renovations taking place currently, many homeowners are unfortunately unaware of this required step, and how crucial it could be for the quality and longevity of your flooring.
What is a subfloor?
Simply put, a subfloor is the material laid before your flooring as the foundation. Your flooring will only be as good as your subfloor, so it is essential that you take the necessary time and care when laying. Concrete and plywood are commonly used for subfloor preparation across a range of domestic and commercial sites, and the process is usually undertaken by a professional to ensure a seamlessly reliable finish.
What damage can be caused with an incorrectly laid subfloor?
To ensure that the foundation layer goes unnoticed by your visitors, it is essential that it is laid correctly. This means it should be fully dried, structurally sound, correctly cleaned, and un-faulty. Without careful preparation, the quality of your flooring will decrease, and your subfloor may become an evident factor to yourself and your visitors, in the form of:
Uneven treading
A fast declining lifespan
Decreased comfort
Dipping, sagging, or separating
Unnecessary movement
Can I prepare and lay my own subfloor?
The quality of your flooring will be only as good as your subfloor, and the quality of your subfloor will be only as good as the person who lays it. Whilst DIY projects could lead to property owners attempting to lay the foundation layer themselves, the greatest result will always come from a professional. They will be able to take factors into consideration that an un-trained person may not. These include, but are not limited to:
The most compatible subfloor option for the flooring type that is to be laid
The best subfloor option for the foot traffic or weight of furniture it is likely to withstand
Whether the subfloor is pH and moisture tested to prevent the occurrence of damp flooring or ceilings
Whether there is an existing subfloor which requires removal or amending
How can we help?
Here at Easifit Flooring, our expertise in the industry allows us to provide the best suited, tailored approaches for every property and floor type. We have access to the highest quality tools and materials, from leading manufacturers, including F Ball, Uzin, Laybond and Altro. Our professional contractors are trusted experts when it comes to subfloor preparation, ensuring that any flooring material laid by ourselves is of the highest quality and durability.
If you are looking to lift and lay new flooring or you want to lay a floor for the first time in your new build, our team are here to help. No matter what your query may be, get in touch and we will be delighted to help. Give us a call on 0800 096 1171 or email us at  today.