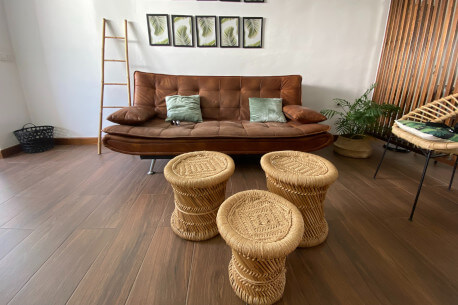 22 May

Karndean vs Amtico: Your comprehensive guide

When it comes to choosing the right luxury vinyl tile (LVT) for your domestic or commercial space, there are inevitably going to be a few options to weigh up before deciding on your final choice. The form of your choice may lay in the hands of Karndean or Amtico, and with much confusion over the differences between these manufactured LVT's, we are here to lay the facts out for you, allowing you to make the correct choice for your flooring needs.
Cost
When it comes to deciding on your LVT, one of the main factors to take into consideration is likely to be the cost, so let's compare our two options. With both holding exceptional qualities, from durability to style, the cost may not be the deciding factor that you would have relied on!
Karndean
The prominent budget-friendly option out of the two would be Karndean, but only by a tight margin. Of course, the style and volume of flooring that you require will alter the price, but you could be looking at a start price of just £25 per square metre.
Amtico
Amtico follows closely on the cost-ladder, with an average starting price of £30 per square metre. Again, your specialist flooring contractor will be able to advise with a more accurate quotation, depending on the volume of tiles you wish to lay.
Installation
When it comes to differentiating the two LVTs based upon their installation processes, there really aren't any stand-out factors that puts one infront of the other. Both Amtico and Karndean's on-par and simplistic 'lay-and-click' approaches create the ability for quicker installation time, whilst the speed of installation can cut the price of labour costs and any additional materials required.
Durability and resilience
The answer to this deciding factor would depend on the use and placement that you require your LVT for. As with many flooring options, if you are to lay your vinyl in a location which experiences heavy footfall, the durability may begin to degrade over a slightly shorter period of time than one laid in a location of minimal use. However, both LVT options come with resisting factors to ensure that they can remain as resilient as required. For the sake of fairness, lets assume both types have been laid in the same location. Now, let's take a look at how their durability could weigh out…
Karndean
Karndean utilises K Guard +, which is a level of protectant that has been awarded with the highest wear rating possible. With these qualities, you can depend on Karndean being the most durable LVT flooring type out of the two.
Amtico
Whilst it may not be as durable as Karndean, Amtico's Quantum Guard is one of the UK's leading urethane coatings, leading to it being one of the country's most resilient LVT flooring types, and suitable for a high level of footfall.
Practicality
There is a reason as to why LVT is such a commonly requested flooring type, and that is due to its practicality and robust performance. Whilst both Karndean and Amtico are hold equally robust qualities, ensuring they remain durable throughout extreme sunlight, and slip-resistant on those wetter days, there is only one slight factor which differentiates the two options here, and that is sound insulation.
Karndean
The acoustic rating of Karndean can be boosted with effective underlay, but will struggle to reach the heights of Amtico without the careful preparation.
Amtico
Amtico takes the lead in this aspect with a 20dB acoustic rating, ensuring low noise carrying and peaceful comfort in a multitude of environments, from home to the office.
Environmental efficiency
We all want to do our part in protecting our environment, and we can even make positive choices with our LVT flooring – but which one would have a higher environmentally-friendly rating?
Karndean
Whilst they aren't the leading choice for an environmentally friendly flooring choice, Karndean are still committed to the ecological production of their LVT's and work closely alongside both government regulations.
Amtico
However, there is a clear lead when it comes to the flooring option that remains most environmentally-friendly and this is often reflected in the higher cost, of course with Amtico. They have been awarded for their phthalate free, low emission LVT collections, as well as receiving further credibility due to their accreditation for eco-responsibility.
For expert advice with determining your choice of flooring, or for assistance in the fitting of your choice within your domestic or commercial property, get in touch with a member of our Easifit Flooring team by calling 0800 096 1171 or emailing us at today.