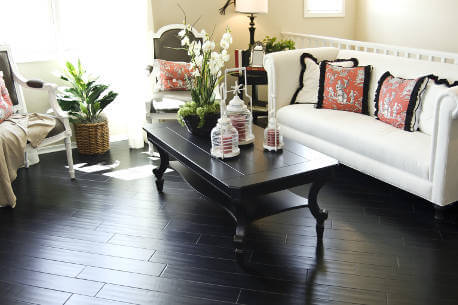 29 May

Keeping your new vinyl wood plank flooring in tip-top condition

Have you just had a new vinyl wood plank floor installed? Perhaps you've just moved into a new place which already has vinyl wood plank flooring and you're not sure how to look after it.  Either way, we bet you can't get enough of drinking in how good it looks and how it improves your space, wherever it may be in your house – your living room, bedrooms, entrances, or even throughout your home. You want to make sure that it stays that way for as long as possible and that you keep wear and tear to a minimum and sheen to a maximum. There is a way! Our focus this month is on taking a look at the ways in which you can make this happen, to ensure your vinyl wood plank floor looks as good as new for a long time.
Daily sweeping or vacuuming
Yes, it can be a drag, but it need not be. Getting into a simple routine of swiping a soft-brush broom, duster, or vacuum over it will make it a quick and easy job to do. Avoid using hard-bristle brooms as they can scratch your new floor, no matter how gentle you are being. If dust and grit are left on your floor they can cause scratches as you walk over it, so keeping it clean with a quick brush or vacuum every day will reduce the chances of this happening. Vacuuming will also help suck out any trapped dust and debris around the edges and joints, so worth considering once a week if you opt for daily sweeping.
When in need of a deeper clean
You may find that you need a deeper clean once in a while. Before you get the bucket and mop out, run your eye over the manufacturer's guide in case there are any specific dos and don'ts for your particular type of vinyl wood plank flooring, or certain products to use or avoid. If there are no particular recommendations, then you can just use a mild detergent – even dish soap will do – and water. If your floors have lost their sparkle, adding a little white wine vinegar to your bucket will bring it back! When choosing a mop, make sure that you pick one that doesn't have a scrub brush option; a microfibre mop is your best bet all round.
Removing stains
If you get any stains on your vinyl wood plank flooring the best way of removing them is by using a soft cloth. A nylon bristle brush will also work for tougher stains that a cloth won't work on.
Pets and furniture
Moving furniture around could lead to scuffs and scratches, so take great care if you need to move things around. In fact, putting felt pads under the feet of your furniture will avoid any scratches if they are moved, whether deliberately or accidentally. If you have pets at home keep their claws trimmed to avoid inadvertent scratches as they get excited and welcome you home.
For advice on caring for your vinyl wood plank floor or for a quote on installation talk to our Easifit Flooring experts. You can reach us on 0800 096 1171 or by dropping us a line at .