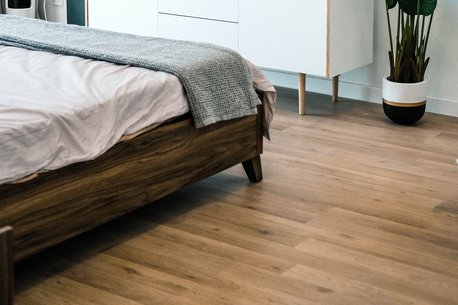 26 Jul

Maintaining your LVT flooring [your cleaning guide]

Luxury Vinyl Tiles (LVT) are an increasingly popular flooring choice that is used in a range of environments. The qualities of the flooring make it simple to maintain but, as with anything, there are still practical steps that can be taken to provide it with the best chance at surviving the long run, whilst looking as good as it did the day it was laid. With this in mind, we have created a simple guide on the ways to clean and maintain your luxury vinyl flooring.
Protecting your floor
There can always be aspects of our day-to-day lives that impact our LVT flooring, and so we are here to provide you with a range of steps to follow that can add a level of protection.
Lay entrance matting
One of the most frequent causes for damage in LVT flooring is repeated moisture and dirt being bought in from outdoors. However, this is a problem which can be easily solved by laying down some entrance matting. Whether it be your home or the workplace, entrance mats are available in a range of sizes and can be installed onto your existing flooring to prevent trips and falls. This simple addition will allow for any dirt, debris, and moisture to be removed at the entrance of your premises before it begins to interfere with your LVT.
Lift where possible
We understand what it's like. When your flooring is first laid, we all take every possible measure to protect it, and this often includes lifting our furniture where possible, instead of dragging, pushing, or sliding it over the floor. However, over time, this habit may slip and we may find that we migrate from sliding our chairs to moving all furniture without lifting. This could even include heavy items such as cabinets and tables. Whilst once in a while may not hurt, repeated actions such as this could lead to unwanted wear and tear on your flooring.
Apply felt pads
In line with the point above, there will of course be items of furniture that you cannot lift, and so it would be beneficial to place felt pads under the feet of these items to prevent scratching and scuffing. Of course, we would always recommend placing these protective pads on the feet of every item of furniture which sits upon your floor, but if this isn't possible you should always prioritise those which cannot be lifted and those which appear to be heaviest.
The dos and don'ts of cleaning your floor
What to do…
Use a suitable vacuum to hoover the floor regularly
Sweep the floor in between vacuums with a soft-bristled brush to remove any grit or debris
Keep the nails of your pets trimmed and filed
Use a slightly damp cloth when trying to remove stubborn stains
What not to do…
Don't leave puddles of water on the flooring
Don't soak the floor when trying to remove stains or keep the floor clean
Don't allow your LVT flooring to sit in direct sunlight each day
Don't use a steam mop to clean your LVT
Don't allow high heeled shoes to be worn on the floor too regularly
At Easifit Flooring, our team of experts can provide you with specialist guidance and advice on laying and maintaining your LVT. For any enquiries, get in touch by calling 0800 096 1171 or emailing .