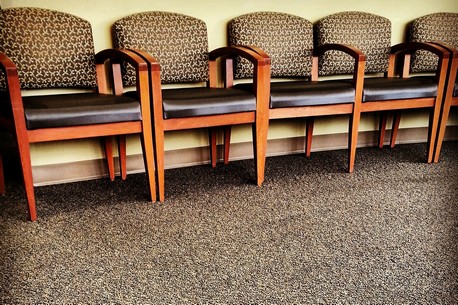 25 Oct

Maintaining your office carpet [a guide]

The condition of the flooring within your office can create an instant positive impression for your business, so you'll want to keep it well maintained. With heavy footfall daily, it will undoubtably begin to look aged and worn over time. Carpet maintenance can feel like a lengthy job, but with our simple guide you can ensure that your commercial carpet remains in high-quality condition all year round.
Lay entrance matting
Outside is host to a range of dirt and debris, from shrubbery and mud through to moisture. Prevent this from being walked into your premises and staining your commercial carpet by fitting effective entrance matting on the floor at all entrance points. With the ability for this matting to be made to measure and secured into your flooring, you'll have no need to worry about trip hazards and will protect your carpeting from being damaged by external factors.
Vacuum regularly
No matter how much external debris is collected by your entrance matting, your carpet can still be prone to collecting in-office debris. It may sound simple, but regular vacuuming could make all the difference in creating a clean carpet surface. From pencil shavings through to hair and dust, debris can work its way into the fibres of your commercial carpeting each day and, although it may seem unnoticeable at first, it won't take long until a build-up occurs. Vacuuming daily could remove these pesky pieces of debris before they create a permanent home within your carpet.
Consider your furniture
As well as footfall, the opening and closing of doors, shifting of chairs, and moving of desks can have an impact on the condition of your commercial carpet. By fitting felt furniture coasters to the bottom of your desks and cupboards, you will be able to distribute their weight across a larger area, relieving the flooring of harsh pressure, and preventing your carpet from acquiring damage. You can also swap your standard chairs for those on wheels which move across carpet with less friction, and fit brush-bottom door seals to your doors, allowing them to glide open and shut smoothly.
Arrange for regular deep cleaning
A professional helping hand is always dependable. Free up your time and allow an expert to get to work on your commercial carpet. With top-of-the-range cleaning products, high-end equipment and processes that are tailored to your specific carpet, you can guarantee a carpet that is clean from the inside out.
Replace your carpet
If your carpet seems to be host to a wide array of damage, such as fraying and curling, it may be time to have it replaced. By taking a look through your records, you may even find the date in which the commercial flooring was laid and see that it has reached the end of its lifespan. No matter its age, a professional flooring contractor can provide your workplace with a stylish yet practical carpet to fit in with your office décor and remain durable to your requirements.
At Easifit Flooring, we are on hand to supply and fit high-quality flooring to commercial and residential properties, including carpet tiles and vinyl flooring. For information on our installation process, get in touch today. Give us a call on 0800 096 1171 or email a member of our team at  and we will be happy to help you.