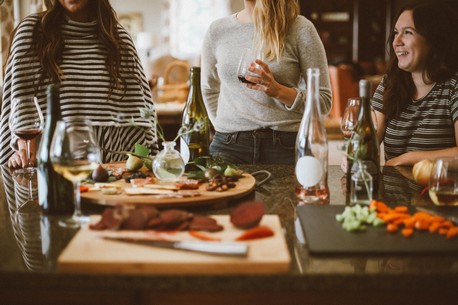 26 Nov

Is your flooring party-proof?

With Christmas approaching, the party season is officially just around the corner. Whilst your mind may be focused on platters, drinks and décor, its worth sparing a thought for your flooring. Whether your Christmas party is being held at home or at the office, there are steps that you can take to prevent damage or injury occurring.

It won't always be practical to lift and lay an entire new floor throughout your premises for one party. However, there are factors that you can consider that will reduce the risk of harm to both your flooring and guests during the festive period each year.
Entrance matting
Decrease the amount of external grit, grime, and moisture that is walked into your premises with simple yet effective entrance matting. With the ability to be secured to your floor, this matting can also reduce trip hazards, keeping your guests safe and allowing them to party on into the night.
Floor coverings
Protect areas of your flooring from scratches and scuffs from those glitzy stilettos with high-quality floor coverings. Available in arrange of grades for all uses and laid simply in an inter-locking fashion, it's easy to add extra protection to high-risk areas such as the dancefloor or bar area.
Furniture coasters
You may be moving temporary furniture for your Christmas-do. No matter how light tables and chairs may seem, the shifting of these pieces can be damaging to your floor. Furniture coasters are simple, discreet protectors that lay in between furniture legs and flooring, reducing the pressure on the floor and preventing damage.
Ideal flooring types:
If you are in the position where functions and parties will be something of a regular occurrence within your commercial or residential property, or the footfall is always high, it may be time to invest in a form of safety flooring. Despite the connotations, safe flooring doesn't need to slack on style.
Vinyl flooring, or LVT, is available in a wide range of colours, tones, and patterns to suit any style and taste. From commercial offices to residential dining rooms, this anti-slip option will prevent trips, even with spillages present. Plus, its easy-to-clean quality allows for the upkeep of simple and effective hygiene.
Linoleum flooring boasts natural anti-bacterial properties and, in the same way as LVT, can provide a range of colour and pattern options to match a whole host of styles. Hardwearing and sustainable, this flooring type can provide style and safety to your premises.
Whether you are looking for a temporary or permanent flooring fix, our team at Easifit Flooring are here to help. Get in touch with our team by calling 0800 096 1171 or emailing and we will be happy to help you toward a safe and damage-free party season.