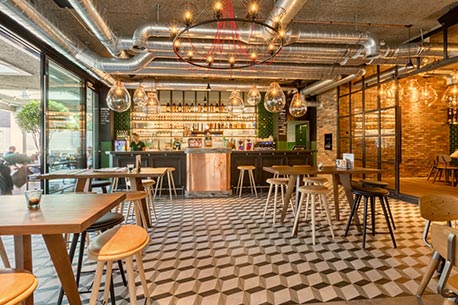 26 May

Safe flooring for the return to restaurants and bars

May 17th 2021 – the day our bars and restaurants were able to open up their indoor areas and once again welcome back their loyal customers! With many restaurant and bar owners contemplating upon fresh deals and new items to add to the menu, many will also need to readjust their layouts, furnishings and flooring choices for the benefit of health and safety, providing their customers with a clean, safe and enjoyable environment. Today, we take a walk through the areas of your typical restaurant and explain the safest flooring options that you may wish to consider.
Entrance
Your restaurants entrance is the location where the first footfall will take place. Ensure your safety elements run from this very point, keeping your customers safe at all times whilst in your premises. You should utilise a durable flooring type which also works to remove any moisture, grit or debris bought in from the outside, preventing it from being transferred around your flooring and causing a slip risk. Entrance matting can be the perfect option for both safety and cleanliness, and what's more is that the mat can easily be taken up once your premises are closed, and thoroughly cleaned, keeping its pristine condition for all customers.
Main restaurant floor
When it comes to the main flooring used throughout the restaurant, you will need to ensue that they are durable, easy to clean and slip resistant. Luxury vinyl tile (LVT) can be perfect for all factors. With a wide range of styles available, you can match your flooring to your premises colour scheme whilst also keeping safety a priority. From wood to stone, LVT is versatile and can complement any scene whilst withstanding spills and remaining easy to clean without revealing damage.
Another choice to consider is laminate. With an array of colours to choose from, this flooring will also stand against any spillages and footfall, remaining resistant to moisture and traffic damage during your daily deep-clean sessions.
Bar areas
Many restaurants will host a bar area, whether they allow customers to be seated at them or if they are solely for your staff to be located whilst they prepare each glamourous cocktail. No matter their purpose, they are bound to receive a number of sticky spillages each day and should therefore remain both easy to clean as well as slip resistant. Vinyl or ceramic flooring can be highly suitable due to their slip and scratch resistance, as well as their ability to be deep cleaned with ease.
Kitchen areas
Your kitchen area may need to withstand fluctuating temperatures and spillages of high heat. To prevent accidents occurring to your members of staff, your flooring will also need to be slip resistant. As with your bar areas, commercial vinyl flooring or ceramic tiles are ideal for these conditions, providing your staff with safety whilst remaining waterproof and therefore damage-free after any spillages. They also remain easy to clean, allowing you to remove all traces of food and liquid, keeping your kitchen hyenic at all times.
Restrooms
Throughout your opening hours, your customers will be trailing in and out of your restrooms. Whilst footfall will be lower than the main restaurant floor, the need for slip resistance and easy cleaning remains just as high. Ceramic tiles will not only allow your restrooms to appear welcoming and glamourous, but clean and slip free. Available in a range of colours, you can be sure to create a restroom area that suits every gender and style.
If you are looking to improve upon safety and cleanliness within your bar or restaurant, our specialist team at Easifit Flooring are on hand to help. Get in touch with any questions you may have or to arrange for an initial visit to meet with you and assess your current flooring. Simply call us on 0800 096 1171 or send us an email at today.