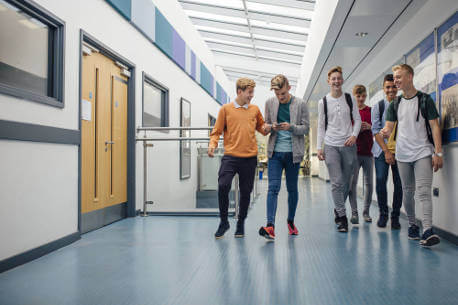 23 Apr

Safety flooring – when do you need it?

If you are a business owner then you have a duty of care and responsibility towards all those using your space – staff and visitors alike – to provide a safe environment. This includes getting your flooring materials right to reduce the risk of slips, trips, and falls, which are the leading cause of injury in the workplace, and ensuring your premises are as safe as can be. Let's take a look at the type of businesses that would benefit from safety flooring and what your options are.
What is safety flooring?
Safety flooring refers to the types of materials that have a firm grip surface, providing slip resistance particularly where the likelihood of spills is high.
Who needs safety flooring?
If you run any of the following types of businesses, then you should consider installing safety flooring.
Commercial kitchens
Liquids, food, and grease can all too easily find their way on to a commercial kitchen floor. No matter how much care is taken accidents can always happen in a busy, bustling kitchen. Your flooring must be able to withstand such spills and keep your staff safe as they rush around from one end of the kitchen to the other preparing food and clearing crockery, utensils, and cooking pots.
Bars
Particularly necessary behind the bar where spills and breakages can pose a danger to staff as they dash around mixing cocktails and pouring pints. While the back of a bar is an area that is not as visible to the public, there is a wide variety of options that can be used without compromising your bar's décor or style.
Gyms
Throughout the premises there is a risk of accident; changing rooms and showers are humid environments and splashes can occur on the training floor where sweat and humidity can quickly make a floor slippery. There are a number of options that can provide a safe environment while offering design options to help your gym stand out in terms of design as well.
Healthcare facilities
This includes doctors' surgeries, dentists, care homes, clinics, and hospitals. Installed across all areas, from entrances, offices, and toilets, safety flooring gives you and your patients, particularly those who may be more unsteady on their feet, peace of mind that they are not going to slip.
Animal care facilities
Equally important are those premises that deal with animals – veterinary practices, kennels, and animal rescue shelters. Dealing with animals which are often anxious and scared, and perhaps not yet fully house trained, flooring must be able to withstand liquids while being quick and easy to clean in order to maintain a hygienic environment.
External walkways
Whatever your business, if you have an external walkway that is uncovered and exposed to the elements it is worth considering installing safety flooring for that extra element of safety.
Who do we work with?
We have long-standing relationships with some of the world's largest safety flooring manufacturers, including Altro, Gerflor, and Polyflor.
For more information on safety flooring, for advice on whether you need it, and what the right materials are for your business our team of specialists at Easifit Flooring are trained to help you find the right solutions. For a chat or a free, no-obligation quote call us on 0800 096 1171 or email us at .