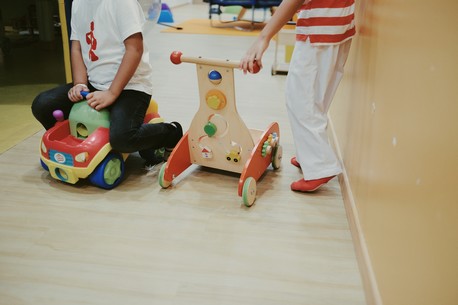 29 Sep

The best flooring choices for your school [A guide]

With a series of school holidays approaching, leaving the school grounds free from students, what better time to re-evaluate your flooring choices, ensuring that your pupils remain happy in a school that provides safety and comfort underfoot.
Restroom flooring
School restrooms, no matter the age of pupils utilising them, will always be prone to water spillage and require a thorough upkeep of deep cleaning. Safety flooring is constructed of seamless, slip-resistant materials, remaining durable through high levels of footfall – possibly higher than most other areas of the school grounds – and repeated cleaning.
Kitchen flooring
Kitchen flooring in any environment will need to withstand high levels of heat and spillages whilst remaining long-standing with minimal maintenance. Partner these factors with a kitchen supplying a few hundred school meals a day, and the demand intensifies. Commercial kitchen flooring is hardwearing and hygienic, operating with slip resistance and little need for regular maintenance, allowing you to focus on food preparation.
School hall flooring
A school hall may be the area of the premises which experiences the highest footfall. Hosting lunches, sporting activities, parent and teacher meetings and much more, you will need the flooring of this area to remain highly durable, cost-efficient and attractive. Wood plank vinyl flooring provides the natural beauty of wooden flooring replicated into luxury vinyl tiles (LVT), without the costly maintenance of sanding and varnishing. It also remains extremely easy to clean – ideal for hygiene purposes.
Classroom flooring
Depending on the age range within your school, the flooring choice within the classrooms may be a combination of two different materials. As well as safety flooring or wood plank vinyl beneath the desks, carpet tiles can be an ideal addition for those reading corners or chill-out zones. The comfort and warmth can create an area of relaxation, allowing those younger pupils to relax within their learning environment. Installation is simple with the ability to lay individual tiles down at a time, removing any disruption with the ability to keep all furniture within the classroom.
School gym flooring
Possibly one of the most exciting locations within your school, the gym or sports area will need to be equipped with additional safety for those active pupils. Rubber flooring is the ideal solution, with the ability to withstand rigorous movements, remaining durable, easy to clean and supple, lessening impact from any trips or falls. With a range of colour options available, rubber flooring can be designed to match any environment.
If you are confident in the flooring choices currently laid throughout your school premises, it is worth taking the school holidays as a time to assess the quality, checking and recovering any cracks, splits, curling or lifting that could cause harm. You may wish to arrange for a professional flooring contractor to carry out any repairs or replacements, providing you with reliably safe school grounds.
Our qualified team at Easifit Flooring are on hand for just that. Providing our knowledge and expertise, we can supply your premises with flooring suitable for any and every requirement. To speak to a member of our team, give us a call on 0800 096 1171 or email us at where we will be happy to advise and assist you.