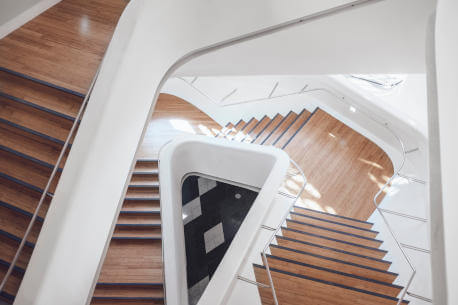 26 Jun

The importance of stair nosings

Ensuring on-going and reliable health and safety factors within your premises is an extremely necessary quality to withhold. Flooring options throughout the main pathways of a building are always strongly considered but it often leaves behind the thought and planning that goes into reinforcing the same safety levels for your staircases. With simple, yet high-quality options available, such as stair nosings, you can produce stairs that are safe for use all year round.
What are stair nosings?
Stair nosings, otherwise known as stair edgings, are added to the edge of each step on a staircase to improve function and safety in multiple ways, from visibility to securing carpeting.
How to they improve safety levels?
Staircases, whether they be in your home, office or clinical facility, are faced with heavy levels of footing daily and, over time, could wear down due to this substantial usage, whilst increasing the levels of potential hazards. Stair nosings can be used to combat any signs of wear and tear before they even appear and can be helpful in a number of instances, such as:
Visibility. Nosings come in a variety of colours, allowing you to personally choose one that contrasts from the colour of your steps. For example, grey stairs are often accompanied by yellow nosings, increasing the levels of visibility of each individual step when walking either up or down, allowing visitors to tread carefully and confidentially, minimizing the risk of trips.
Carpeting. Heavy use of carpeted stairs could result in wear and tear such as torn or curling edges, increasing the risk of trips and falls. Nosings can be fitted to secure the edge of carpeting, allowing no room for lifting over time and allowing a smooth and even surface to remain.
Slip resistance. Weathering from the outside can often affect the safety levels of your building. If water droplets remain on the soles of visitor's shoes, they could be leaving traces of water on your staircase, endangering themselves or other stair and increasing the potential to slip. With grooved stair nosings available, you can secure a slip resistant feature to your staircase, decreasing the risk of falls.
What type of stair nosing would suit my staircase?
When it comes to fitting your stair nosings, contact a professional who will carry out a detailed assessment of the risks that could be eliminated for you. Clinical facilities will often have stairs of a smooth surface area to enable thorough sanitising. In instances like these, contrasted colouring and slip resistant nosings would be appropriate to increase visibility for your patients whilst decreasing the risk of slips. Your home may also consist of carpeted stairs which form a risk of curling and tearing and resulting in trips. The floor nosings for this type of staircase would alter from a clinical facility.
If you are considering the installation of stair nosings for your staircase, get in touch with our friendly team at Easifit Flooring who will be able to accurately assess, advise and install the correct option for your premises. Give us a call on 0800 096 1171 or email us at to arrange a meeting with us.