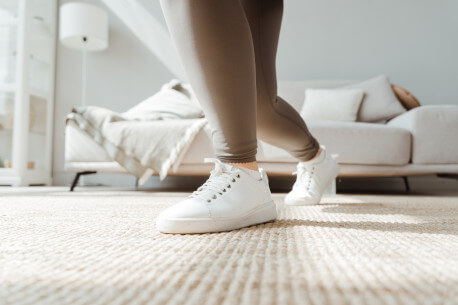 30 Jun

Synthetic or natural carpeting: Which is best?

When it comes to choosing a new carpet for your home or office environment, the variety of patterns, colours and tones can often be enough to fill your mind with ideas, possibilities, and even questions. However, there is an additional factor that you may want to consider: synthetic or natural?

The material you choose has great importance for a number of aspects, such as the longevity of your carpet, so it is crucial to be confident in your choice. Whilst everyone's requirements and environments are different, this month we reveal the differences and characteristics of both natural and synthetic carpets to allow you to make the right choice.
Why is the fibre material important?
Choosing the right fibre type for your environment can have a positive effect on multiple factors. One of these is the length of time your carpet lasts without signs of natural wear and tear or aging. The correct fibre choice can prolong its durability, allowing it to look as good as newfor longer! The right fibre can also provide you with a level of noise insulation that prevents your footsteps or voices from travelling down to the floor below – often ideal for an office space – as well as creating an easier clean. Of course, the texture and warmth of your carpet can also be down to your fibre choice! Depending on where your carpet is to be laid, these benefits can prove valuable for a variety of environments and uses.
The characteristics of natural fibre carpeting
The most common natural fibres used for carpeting include silk, jute, and wool, whilst coir and sisal fibres are predominantly used for entrance matting due to their ability to remove and absorb water, grit, or mud from the soles of shoes.
Nature fibre carpeting of any type can be extremely durable and easy to clean.
Due to the fibres being made from naturally occurring materials, they are classed as environmentally friendly.
Natural wood fibre carpeting provides high level acoustic insulation due to its density, which also delivers a plush finish for ultimate underfoot comfort.
Natural fibre carpets are water resistant, and due to their organic origins, can absorb water without becoming saturated and damaged.
The characteristics of synthetic fibre carpeting
The most common synthetic fibres used in carpeting include nylon, polypropylene, and polyester, and all prove to be the cost-effective choice over natural carpet fibres.
These synthetic fibres are highly stain resistant, as well as incredibly durable.
The way in which they are crafted allows them to hold their colour for an extended period of time, with no signs of aging or fading.
Amongst the possibilities for synthetic carpeting, nylon proves to be the most durable, whilst it also remains heat resistant and hard-wearing in all conditions.
As a synthetic fibre choice, polyester can be recycled, reducing its environmental impact in the long run.
At Easifit Flooring, our specialists are on hand to provide you with any guidance and advice you are seeking. For further information or any flooring enquiries, get in touch and we will be happy to help. Give us a call on  0800 096 1171 or send us an email at .