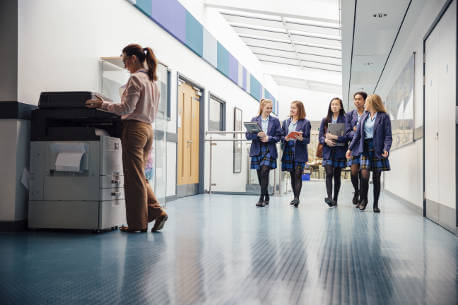 27 Mar

The Flooring Series: What type of flooring is right for a school?

When it comes to flooring getting it right will depend on the space you need it for and what it is going to be used for. Flooring for a commercial kitchen will be very different to that for an outdoor play area, and different still for an office block. We have compiled our Flooring Series, exploring the different types of flooring for the main industry sectors to save you looking around for information. In the first of this series, we take a look at the education sector and the type of flooring that is suitable for schools.
Types of schools
Schools span quite a wide variety covering an age group that goes from day care to secondary school, college and higher education. We focus our attention on the school premises up to secondary school.
Differing uses in schools
As well as catering to the different age groups in different schools, there is also a variety of uses within the school itself, including classrooms, corridors, kitchens, sports facilities, and outdoor areas. We start outside and work our way in…
Outdoors
Play areas outdoors need to be safe for children and pupils of all ages. For younger children rubber flooring is an excellent option as it allows them to run around and explore without hurting themselves when they fall down. Similarly, sports and recreation areas will benefit from this type of flooring.
Corridors and communal areas
For those areas where pupils move through or mill around in, such as corridors, or where they may congregate in large numbers, such as assembly halls and cafeterias, safety flooring is ideal. Laminate flooring is a popular option as it is hard wearing and can be waterproof and fireproof as part of its in-built safety features. It comes in a range of classes, offering a wide variety of choice to suit every area and need.
Kitchens
As with commercial kitchens, safety and hygiene are paramount in a kitchen and the type of flooring must reflect that. Laminate is a good option as is vinyl which has the added benefits of a commercial grade of wear resistance to cope with the hot, humid conditions and the expected spills and drips. At the same time, vinyl is also comfortable to walk on, to help those staff spending long periods of time standing. Both are also easy to clean.
Classrooms
There are a number of options here, including carpet tiles, laminate, or vinyl. Vinyl options include wood plank vinyl for that improved aesthetic look without losing out on any of the hard-wearing nature of the material or its ability to remain easy to clean. Different treatments also offer options for water resistance. Carpet tiles are an excellent choice for nurseries and day care facilities where a softer material is more suitable to allow children to play, crawl and fall over without fear of hurting themselves. Carpet tiles are also easy to clean and can be removed and replaced individually if there is any damage, soiling, or excessive wear and tear, making them a very cost-effective solution.
For those rooms that may need extra features, such as acoustic flooring to minimise noise, vinyl is ideal as it can be designed to reduce noise levels. Carpet tiles will also be a good choice with their natural noise-reducing properties.
If you are considering your options for new flooring, for a school or any other use, our experts at Easifit Flooring are here to help you make the right choices. Get in touch with us by phone or email on 0800 096 1171 and and don't forget to ask for your free, no-obligation quote.