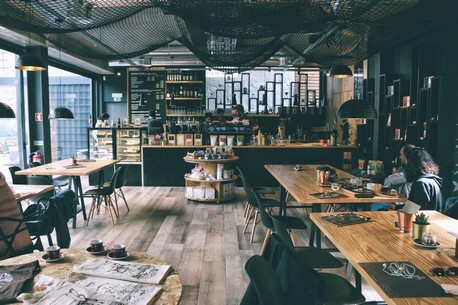 29 Apr

The Flooring Series: What type of flooring is right for restaurants?

If you are in the process of refurbishing or building a new restaurant then flooring will be one of the key decisions you will be called upon to make. Depending on the style of restaurant you have and the ambience you want to create there are plenty of options to choose from. We take a look at what they are in this month's Flooring Series and also consider those back-of-house working areas too.
Restaurant floor
There are two main types of flooring that most restaurant owners choose. Here they are, together with the main benefits of each:
Luxury vinyl tiles. Also known as LVT, luxury vinyl flooring or luxury vinyl plank flooring, this is perhaps the most versatile option on the market in terms of look and colour. Available in wood, stone, metallic or any other design – abstract or not – luxury vinyl tiles can be made to complement your décor and style, whatever that may be. Easy to install and highly durable, luxury vinyl tiles will also withstand the heavy footfall and traffic associated with a busy restaurant floor. It is also water resistant, able to deal with spills without lasting damage and it's easy to keep clean.
Laminate. Another versatile option, laminate flooring gives you a very wide selection of colours and designs to choose from. Resistant to drips and spills it will also take heavy traffic with little wear and tear. It is also very easy to clean at the end of each day.
Entrance
As with most busy entranceways this is one area where you need to consider footfall as well as trapping and removing dirt and water from shoes and boots. Here, you need a durable flooring material such as laminate. Alternatively, you can use entrance mats to protect your floor from dirt, moisture and temperature changes which can be easily removed and cleaned as regularly as necessary.
Kitchen
The kitchen area is the one that is more likely than others to have to deal with spills. It must also be slip resistant to avoid the potential for accidents as staff move around frequently and often with hot pots and plates in hand. Ceramic tiles or commercial vinyl flooring are good options here and ones that are waterproof, easy to maintain and easy to clean at the end of the day.
Bars
Whether your restaurant has a large, dedicated bar or a small one for preparing diners' drinks it must have the right flooring to provide bar staff with a safe environment to work in. As with kitchens, ceramic tiles and vinyl flooring are suitable options. They are resistant to scratches and spills and can be treated to be slip-resistant as well.
If you are considering what flooring you need for your new or refurbished restaurant get in touch with our Easifit Flooring team. We have the knowledge and experience to advise on the best options for each area of your restaurant and offer free, no-obligation quotes when have made your decision. Find us on 0800 096 1171 or by email at and let us help you make the right flooring decisions.