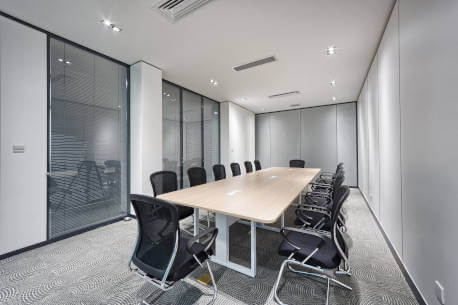 26 Jul

The Flooring Series: What type of flooring is right for retail and office spaces?

When it comes to choosing flooring materials for office or retail spaces form and function are the top priorities. Each area and the use that each room is earmarked for will help to determine the type of flooring that best fits – both in terms of style, function and aesthetic. We delve into the key things to keep in mind when designing a new office or retail space and consider everything there is to know about flooring.
Office spaces
Offices are made up of a variety of spaces. Typically, there will be a lobby or reception area, offices or an open plan working area, meeting rooms, and kitchenettes and toilet facilities.
Lobbies and reception areas. They will have the highest footfall but also be the first thing that clients and staff see when they come in. You want it to be attractive and professional, but it will also need to be safe and durable. Good flooring options tend to be luxury vinyl tiles and wood finishes. Tile is also an option, depending on your location and type of business, and while carpet is also an option it is more high maintenance than other types of flooring. Luxury vinyl tiles offer an incredible variety of styles and colours to choose from. While neutral colours are always a good choice, that doesn't have to be at expense of colour. Opting for a splash of colour here and there could create a great talking point and could even incorporate your company colours or logo. They are also durable, scratch and spill resistant and easy to clean and maintain.
Office areas and meeting rooms. For heavily trafficked office areas, carpet tiles are an excellent choice. As well as being able to withstand that heavy footfall, they also offer noise dampening and help keep the space warm during colder months, keeping your energy bills more manageable. Luxury vinyl tile will also work, and this is where the choice will depend on the type of business. Both options offer a wide variety of colours to choose from and both are easy to maintain. The beauty of carpet tile is that it is easy to replace any sections that are worn or damaged without having to replace large areas of carpet.
Kitchens and toilets. Hygiene and easy maintenance are key for these areas. Tile or linoleum are great choices here as they are water resistant and can be easily cleaned. They are also safer as they are slip resistant and spills can be mopped up easily without causing any damage to the flooring surface.
Retail spaces
By far the most important factor to consider when it comes to retail flooring is customer experience. This hides a variety of things: attractiveness of the space, safety in getting around, and ease of maintenance. Luxury vinyl tile covers all these as well as being water resistant, or even waterproof with the right treatment, and low maintenance. The plethora of colours and designs on offer with luxury vinyl tile will meet even the most demanding of styles and playing with different types will allow you to design your retail space exactly how you want it.
Want to know more about flooring and how to choose the right type for your office or retail space? Talk to our Easifit Flooring team for ideas and advice and ask them for your free, no-obligation quote. Find us on 0800 096 1171 or drop us a line at whenever you need us.