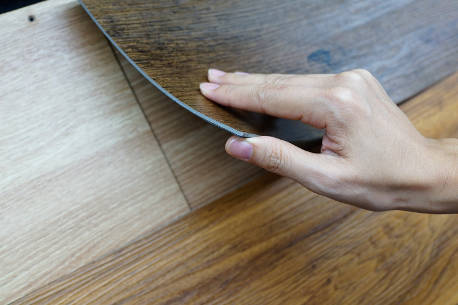 26 Mar

The many forms of luxury vinyl tiles

Vinyl flooring is far from new. In fact, it has been around since the 1950s but it has been gaining in popularity ever since and has become one of the most common choices of flooring material in the UK in the form of luxury vinyl tiles. In this month's article we take a look at why this is and what to consider and look out for when looking at flooring options for your home or business.
Why choose luxury vinyl tiles?
Luxury vinyl tiles are an incredibly versatile flooring material. They are water resistant and almost impervious to damage and staining. They are also one of the easiest materials to keep clean; a simple sweep or vacuum will remove surface dirt and a pass with a wet mop will lift anything that remains behind. Add to this the fact that they are scratch and moisture resistant and you will wonder why you ever considered any other material at all. Many manufacturers also offer slip-resistant coatings which are particularly useful for homes with young children, pets, or vulnerable adults.
Styles on offer
The versatility of luxury vinyl tiles does not end there. They come in a variety of styles, including wood effect, stone effect, ceramic, and even a metal-look effect. Add to this the possibility of adding texture effects and you have a huge variety to choose from.
Not just for the home
Heavier duty luxury vinyl tiles are also available for commercial uses. Areas that experience heavy footfall such as hotels, offices, and retail spaces can benefit from the durability of this flooring material while being able to choose from its wide variety and select a design that suits the style and look of your business. Choose the heavy reinforced wear layer option and you have the perfect flooring material for heavy commercial and light industrial sectors as well.
Manufacturers
There is a plethora of manufacturers that offer luxury vinyl tiles and which give you wide selection from which to choose and design your perfect space. We typically work with some of the biggest manufacturers on the market, including Moduleo, Polyflor, Karndean, Amtico, and Massimo. Don't let these restrict you though – not that their options could do that for long – there are plenty of others that we can source and work with if you have something very specific in mind.
Ease of installation
Installation of vinyl luxury tiles comes in two main forms: using adhesives to fix them to the subfloor, or using a Click system. Solvent-free adhesives are an excellent solution for creating a good bond with the subfloor, particularly if you are working in an area with heavy footfall traffic. Alternatively, using the Click system means that you need no adhesives at all and can install a floor quickly and easily.
For more on the suitability of luxury vinyl tiles for your particular spaces, our Easifit Flooring experts are here to advise and guide you. Find us on 0800 096 1171 or at and we would be happy to help. Don't forget we also offer a free, no-obligation quote.