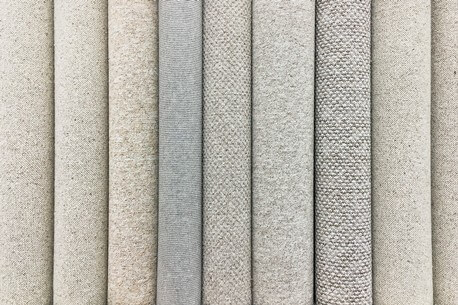 28 Feb

Types of carpet – is synthetic or natural better?

When it comes to choosing a new carpet, the choice of designs and colours alone is almost enough to make some want to close their eyes and pick one at random – or pass on that responsibility to someone with more of an eye for design if you can. There is, however, one thing that you should never leave to chance – the type of material that your new carpet is to be made of. Whether for your home or business, getting the right material will help to ensure a longer life for your carpet. This month, we investigate the differences between synthetic and natural fibres to help you make the right choice for you.
Why is the fibre type important?
It's a key consideration for the following reasons:
Durability
Cleanliness
Noise insulation
Softness and warmth
Depending on what space you are using your carpet for, the balance between these will help you decide which is right for you.
Natural fibres
The most commonly used natural carpet fibres include wool, jute, and even silk, while there are others such as seagrass, animal and plant fibres, or coir and sisal (primarily used for mats). There are a number of benefits to using natural fibres:
They are hard-wearing.
They are environmentally friendly as they are naturally occurring materials.
They are water resistant, and in the case of wool also water absorbent. This unique quality is possible due to the waxy nature of the fibres which repel water from the surface. As a natural material though, it can also hold water without getting easily saturated.
Wool is a very warm and soft material, suitable for a number of uses. The length and density of the fibres will influence its durability and softness and you do have a choice when it comes to finding the right one for your space. It is suitable for high-traffic areas due to its durability.
Wool also offers good acoustic insulation.
Jute, coir, and sisal are excellent choices as mats in areas that experience high traffic or adverse weather conditions as they will absorb and remove water, dirt, and mud from the bottom of shoes and boots.
They are easy to clean.
Man-made, synthetic fibres
There is much to be said for man-made fibres too, such as polypropylene, polyester, and nylon. Their benefits include:
They are durable and stain resistant.
They are easy to clean and can withstand the use of harsher chemicals for those tougher, more stubborn stains.
They hold colour well and show it up more vibrantly than natural fibres. This is ideal if you are looking for a carpet to brighten up a retail space or add colour to an office floor.
Polyester is slightly more environmentally friendly than other man-made fibres and can be recycled, making it a more eco-conscious choice.
Polypropylene and polyester are much cheaper and although nylon is cheaper than natural fibres, it is the more expensive choice of the synthetic ones.
Nylon is very hard-wearing, long considered the best choice for durability amongst the non-natural fibres.
Nylon is also more heat resistant and easier to dry.
Still unsure of what to choose? Then talk to our Easifit Flooring consultants letting them know what you are looking for and for what type of use and they can narrow down the options for you. Call us on 0800 096 1171 or email us at and we can get started. Remember that we also offer free, obligation-free quotes when you have made a decision.