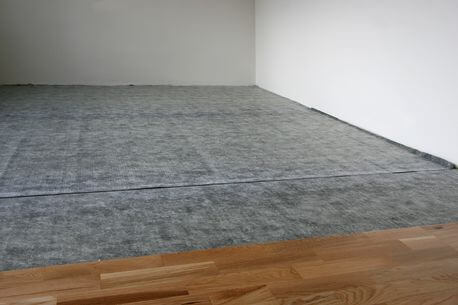 24 Jan

Underlay and why it's critical for your carpet

If you have never heard of carpet underlay, we would wager a bet that you have never had a new carpet installed. Trust us, you wouldn't be the first and we're positive you won't be the last either. After all, why would you if you haven't had to look at carpets before?

The time may come though when you are. Looking at having a new carpet installed, that is. You may have moved into new premises or found that the time has come to replace the old one in your current ones. This month we take a look at what all the fuss is about and what you need to know – and why – about underlay.
What is it?
It is the layer that sits underneath your carpet. Less exciting perhaps than choosing a carpet it is nevertheless an important component and is usually picked out at the same time.
What does it do?
A good-quality underlay has a number of benefits for your floors. They include:
It makes the carpet feel softer. This is because it is usually made of a softer material such as felt. Combined with the carpet itself, the feel below your feet is much softer and more comfortable than carpet alone. It will also be better for your body as it will act as more of a shock absorber than a harder floor without an underlay.
It increases the life of your carpet. That greater shock absorption will also ultimately ensure your carpet has a longer lifespan, protecting it from the inevitable wear and tear that comes with regular use. Ultimately, this will also save you money as you won't need to replace worn carpet too quickly.
It provides insulation. Acting as an insulating layer between the actual floor and your carpet, it will reduce heat loss and cut your energy bills.
It makes the floors feel warmer. With its insulation abilities and the fact that your carpet is not in direct contact with the floor, it will feel warmer underfoot as well as softer making you even more likely to want to kick off your shoes the minute you walk through the door.
It acts as a noise barrier. Especially important if your building neighbours are residents rather than other business owners, or if your own business can do with a little quiet – such as in an office environment, for example. A good underlay helps to cut down on the noise that is transferred through the floors. If this is a particular concern for you make sure to ask the question when ordering to ensure you get the right underlay for the level of noise reduction you need.
What types of underlay are there?
There are three main types:
Firm or soft. Which you choose will likely depend on which area you are having carpeted. For example, a room with heavier foot traffic, such as a retail space or entrance way, would benefit from a firmer underlay to offer greater protection, while a director's office, with less traffic, would be fine with a softer option.
Rubber. A very resilient option, this is also ideal for commercial areas that see very heavy footfall.
Felt. A more traditional option, this is not only hard-wearing, but also more environmentally friendly as it is often made from recycled fibres.
Got a question about underlay or looking for a quote for new carpet? Our Easifit Flooring team is on hand to answer them and to give you a free, no-obligation quote. Get in touch with us by calling 0800 096 1171 or by dropping us an email at .