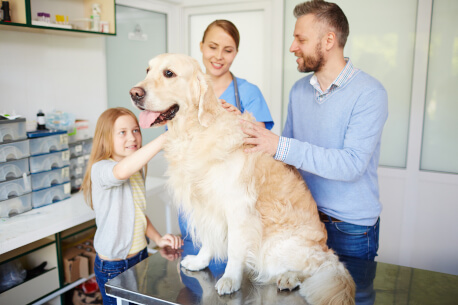 21 Dec

Factors to consider when choosing veterinary flooring

As a demanding, clinical environment, the flooring of your veterinary practice shouldn't be laid without careful thought and consideration. Since your veterinary practice is depended on to be safe, there will be multiple factors to consider when it comes to flooring, ensuringits reliability, comfort and safety remains prominent for staff, animals, and their owners. You may also find that different sections of your practice could benefit from different flooring types. Take a look at the factors you should consider, and the flooring types we would recommend.
The factors to consider for your veterinary flooring
Durable flooring must not only look great once laid, but it also needs to hold onto its appearance and quality for the years to come. Factors such as sunlight, chemical spillages, heavy footfall, and nervous pets with scratching claws are all likely to contribute towards reducing the lifespan of your flooring, but this can be prevented if considered in advance. It may even be that your final floor choice can withstand these factors and remain unaffected for an extended period of time.
Having a broad range of animals and their owners enter your premises each day will lead to a natural increase in the frequency of cleaning to ensure that hairs, muck, and grime are removed.With chemical cleaning agents being used to thoroughly disinfect the clinical environment, your flooring must hold qualities which prevent it from becoming stained or deteriorating in quality. This includes the bonding agent holding the flooring to the sub-floor.
On top of this, cleaning must be able to be carried out in a simple and straightforward way. As veterinary practices are often trusted to be open for long hours, including into the night, it would be unreasonable to use a deep cleaning product which requires the site to be empty. It would also be impractical to lay a floor which requires regular treatment, such as wood. Instead, there are a range of flooring types which hold anti-bacterial qualities and can remain hygienic with the aid of a simple mop.
Slip resistance is an important factor of any flooring, but especially when visitors of all ages, with two, three, or four legs, or even walking assistance visit regularly. Consider the locations of where the floor is being laid throughout your practice. In a location where liquid spills or moisture presence will be higher than others, such as the bathroom or entrance way, you will need to consider a floor with greater slip resistance.
Our recommended veterinary flooring options
Glossy flooring can look smart, but it won't always remain practical. Safety flooring is specifically designed and engineered to remain softer underfoot whilst reducing the risk of slip and trip hazards. With its slip-resistance qualities, its ease to clean and the comfort that comes alongside will create a veterinary practice that remains hazard free and comforting to those with feet and paws.
Linoleum flooring offers a sustainable, practical, and effective solution for clinical environments. Its qualities include stain and chemical resistance, enabling you to take comfort in the fact that chemical spills wont damage the flooring. Approved by Allergy UK, this anti-bacterial floor type reduces exposure to indoor allergens, keeping the air within the environment clean and safe for breathing.

Of course, every practice's requirements may differ and so you may find that an alternative flooring option would benefit you. At Easifit Flooring, our professional team are on hand to provide you with any advice and assistance you require for your flooring. With over four decades of experience, we know how to carry out our services outside of your working hours – you needn't put up with any disturbance. To find out more about how we can help, get in touch. Give us a call on 0800 096 1171 or email us at today.