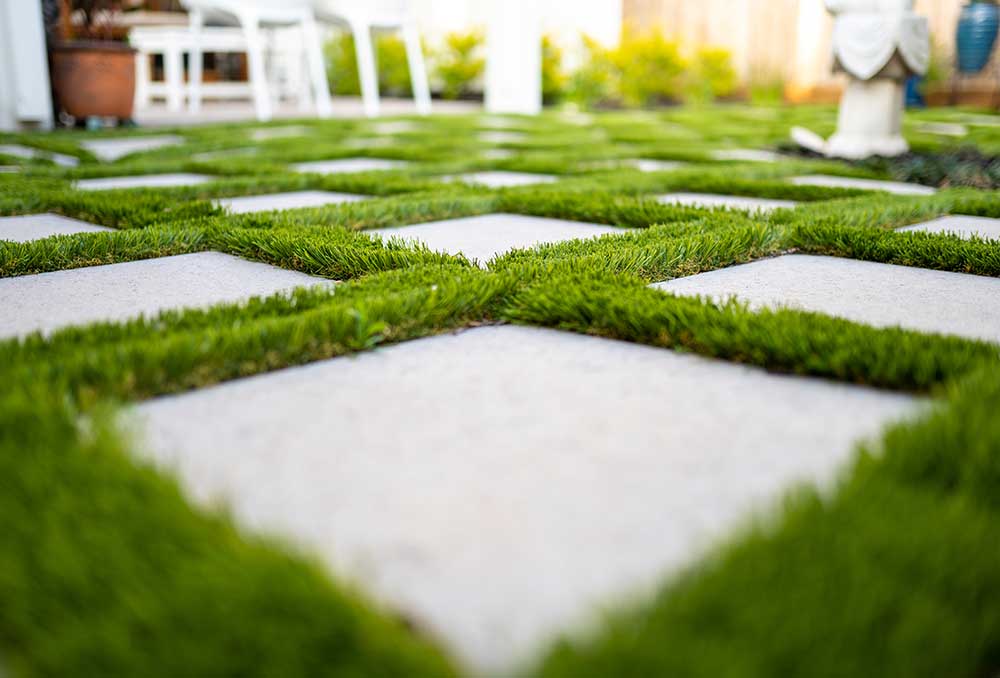 30 Jan

What is astroturf and how can it benefit you?

For homeowners who are searching for ways to update their outdoor area, astroturf could be the perfect solution. This type of landscaping has been gaining popularity in recent years and for good reason – it provides a cost-efficient, low-maintenance way to completely transform the look and feel of your outdoor space. It's also great for practical purposes such as replacing worn-down grassy areas from high-trafficked paths or combating challenging climates with unconventional green spaces. We'll explore why investing in artificial turf could be a smart choice when designing your garden, along with tips on how to best incorporate astroturf into existing landscape designs.
What are the advantages of artificial turf?
Astroturfing, which is also known as synthetic turf, artificial grass, and fake grass, is a type of surface material that's used to replicate the look and feel of natural grass. It's become increasingly popular in recent years due to its low-maintenance requirements and the fact that it can be used in all types of climates. Astroturfing comes in many different colours and textures, making it easier to match with any existing landscape or design. Artificial turf has several benefits when compared to natural grass – it's resistant to most weather conditions, doesn't require as much water or maintenance, and looks clean year-round. Investing in astroturf also helps to reduce water waste and decrease the need for harmful fertilisers and pesticides, letting you enjoy a pristine lawn with minimal effort. Artificial turf also provides a functional playing surface for all sorts of athletic activities and sports, adds aesthetic appeal to landscapes, enables homeowners to enjoy their outdoor space more often throughout the year, and provides an affordable alternative to natural grass lawns.
Tips on incorporating astroturf into existing landscape designs
When it comes to incorporating artificial turf into existing landscape designs, there are several things to consider. First of all, it is important to determine the purpose and desired result of the project. Will artificial turf be used as a full-surface replacement for the grass or will it be incorporated into the design in discrete areas? Artificial turf can provide a low-maintenance solution while creating an attractive aesthetic in outdoor spaces.
Astroturf is available in a variety of styles and colours and can be custom-cut to fit almost any shape or size. Many homeowners opt for this material because it requires little water, fertiliser, or other maintenance resources. In addition, it eliminates the need for mowing and edging, which can save time and money on lawn care.
Another consideration when incorporating astroturf into existing landscape designs is drainage. Proper drainage must be installed beneath artificial turf to ensure that water does not pool on top of the surface. This is especially important if the area where astroturf is being installed receives heavy rainfall or snowfall. Proper installation techniques should also be followed to maximise durability and minimise fading from UV exposure over time.
Finally, before installing the astroturf it is important to evaluate the site's soil content and condition. If the soil needs improvement due to compaction or poor nutrient content, this should be addressed before laying down artificial turf so that plants grow successfully over time. When properly installed and maintained, astroturf can create an inviting outdoor space that saves time, money, and resources in the long run!
How to select the right artificial turf product
When it comes to selecting the right artificial turf product, there are a few important considerations to consider. First and foremost, the quality of the product should be a top priority. Look for products with a long-lasting guarantee and high-quality materials that will ensure your turf looks great for years to come. It's also important to consider installation requirements and cost. Make sure you choose a product that meets your budget as well as an installation method that suits your needs and lifestyle. Finally, make sure the turf you choose is designed for the type of use you need—whether it's for a playground, sports field, or lawn—and is compliant with local regulations. By taking all of these factors into consideration when selecting your artificial turf product, you can ensure you're getting the best possible solution for your needs.
Maintenance tips for artificial turf lawns
Artificial turf lawns are a great way to get the look of a lush, green lawn without all of the fuss. They are low maintenance and require only occasional upkeep. Here are some tips for maintaining an artificial turf lawn:
Remove debris from the turf regularly. Leaves, branches, and other debris can cause damage to the turf over time if left unattended. Using leaf blowers and rakes is an effective way of removing debris.
Inspect the turf periodically for tears or loose stitching. Lightly pull back any damaged areas and re-stitch them as soon as possible.
Hose down the artificial grass regularly with water to remove dust and dirt particles that may have accumulated over time.
If you live in an area where there is snowfall during winter months, be sure to shovel or sweep away any snow accumulation on the grass quickly so that it does not freeze or thaw.
By following these simple maintenance tips for artificial turf lawns you can guarantee that your lawn will continue to look beautiful for years to come!
Why astroturf is a great way to update your outdoor area
Taking the plunge into astroturfing your outdoor area can be intimidating, especially if you are considering a large-scale project. However, with the help of today's advanced artificial turf products and a little bit of creative thought, you can transform your space into an oasis of comfort and style. Astroturf offers homeowners low-maintenance lawn care options, meaning that it won't take long to see the returns on your investment. Moreover, astroturf opens the doors to creative possibilities when designing or redecorating an area. Keep in mind considerations such as product selection, design integration and maintenance when making these decisions too – it's important to ensure that you make the right choice for your needs. It's an easy way to refresh your garden and outside areas. All you have to do is take this opportunity and run with it! For more information about astroturf and investing in artificial turf products, please feel free to reach out to us at Easifit Flooring for advice!