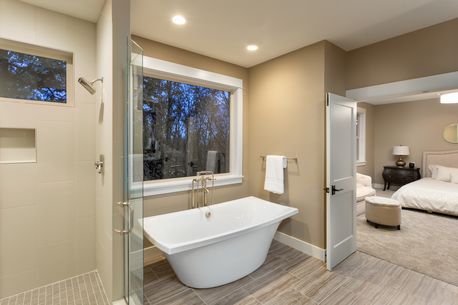 25 Oct

Which flooring is right for kitchens and bathrooms?

Are you in the process of renovating or considering changing things up a little at home but not quite sure how far you can push the flooring boundaries? Has flooring, as well as trends, changed so you're not sure what is quirky and what just doesn't work anymore? Let us help, with a look at the two most popular rooms in the home and the types of flooring that are most suitable to move the decision from 'what flooring' to 'which design' to go for.
Kitchens
One of the most heavily used rooms in the house, kitchens are a hive of activity for large parts of the day no matter how big or small they may be. From breakfast through to dinner, kitchen floors need to be robust, hard-wearing, and easy on the feet as you move around prepping, cooking, and washing and tidying up. Not to mention all the tea and coffee runs whether alone or with friends.
Kitchen floors need to withstand heavy footfall, hot and cold temperatures, and be resistant to spills and splatters. For this reason, you want to have something that is easy and quick to clean and that is resistant to easy wear and tear. Luxury vinyl tiles are ideal for kitchen environments: they are scratch resistant due to their tough top layer, they will put up with almost any amount of foot traffic, and they are resistant to spills – made of PVC they won't even react with water, making them completely waterproof!
An alternative is laminate flooring, also used extensively in kitchens. Also made of tough stuff, it will resist scratches and scuffs and is moisture resistant. This isn't quite the same as waterproof – moisture will slowly work its way in over time – so be sure to mop up any spills as quickly as possible. Having said that, there are waterproof laminate flooring options on the market, they may just be a little more expensive.
Bathrooms
The next most heavily used room in the house, bathrooms endure humid and hot conditions and a greater share of splashing than kitchens. Flooring must be able to deal with quick changes between cooler and hot temperatures, as well as those dramatic changes in humidity as the shower runs extra hot on a cold day.
This makes luxury vinyl tiles perfect for your bathroom. Their resistance to moisture will ensure there is no warping, rippling, or damage through regular use or from the splashes and spills that come from enthusiastic little ones in the bath or teenagers and their long, hot showers. Laminate flooring can also work, but, as with kitchens, it is not as waterproof so perhaps not the ideal choice if you have family members who tend to splash around.
For more ideas on flooring types and their suitability for your home, talk to one of our team at Easifit Flooring. You can get hold of us by phone on 0800 096 1171 or on email at for an informal chat. Don't forget that we also offer free, no-obligation quotes if you are still looking for a flooring supplier and fitter.