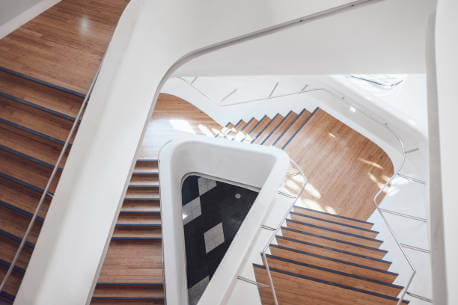 20 Aug

Why do I need stair nosings?

You may have heard of them as 'stair edgings' as well. But what exactly are they and do you actually need them? We explore this in more depth this month to help you decide…
What are they?
Stair nosings are the reinforced edges of each stair. You will have seen them on most staircases, but perhaps not known what they are called. They are placed on the edge of the stair, where most foot traffic occurs.
What do they do?
They are useful for a number of things:
They enhance durability of your staircase by preventing excessive wear and tear of those parts of each stair that experience the greatest use. As an added bonus, they will reduce maintenance costs for general wear and tear as they can be replaced individually in those heavily-trafficked spots where they have become worn down.
They act as an anti-slip measure.
They can be tailored to help with stair edge visibility in low light conditions or for those with visual impairments.
They can improve the aesthetics of your stairs and space overall as you could tailor them to match your style and décor.
Why are they important?
Their primary purpose is health and safety. By acting as an anti-slip mechanism, they will prevent slips, trips, and falls which could lead to serious injury, whether at home, in the workplace, or in public areas. Over the longer term the prevention of faster or excessive wear and tear on those most frequently used parts of the stairs will also reduce accidents. For those spaces that are used by the elderly and infirm, those with a visual impairment, and young children, stair nosings can provide a greater sense of security, offering greater opportunity to move around safely.
Who uses stair nosings?
While they are primarily found in public buildings and areas, they are increasingly used in private homes as well. For those areas that are used by the public – such as schools, hospitals, commercial buildings, gyms, and even cinemas – they are ideal. Since they are a health and safety measure, they offer peace of mind to both facility owners and users.
Are there different types?
Yes, there are. You can choose from a variety of stair nosing finishes, including:
Aluminium – a favourite in public buildings due to their high visibility.
Bronze – often found in commercial buildings.
Chrome – giving a super sleek finish for those high-end businesses or locations.
PVC – ideal for areas that may experience wet conditions or spills, such as pools, gyms, hospitals, or doctors' surgeries.
They can be applied to any type of flooring and are a very cost-effective method for preserving your flooring and ensuring the safety and security for all those using them.
For more details on stair nosings, as well as advice on the types on offer and whether you have a duty of care and need to include them for health and safety reasons, talk to our Easifit Flooring team today. You can either call us on 0800 096 1171 or write to us at and we will be happy to advise and help, or give you your free, no-obligation quote.