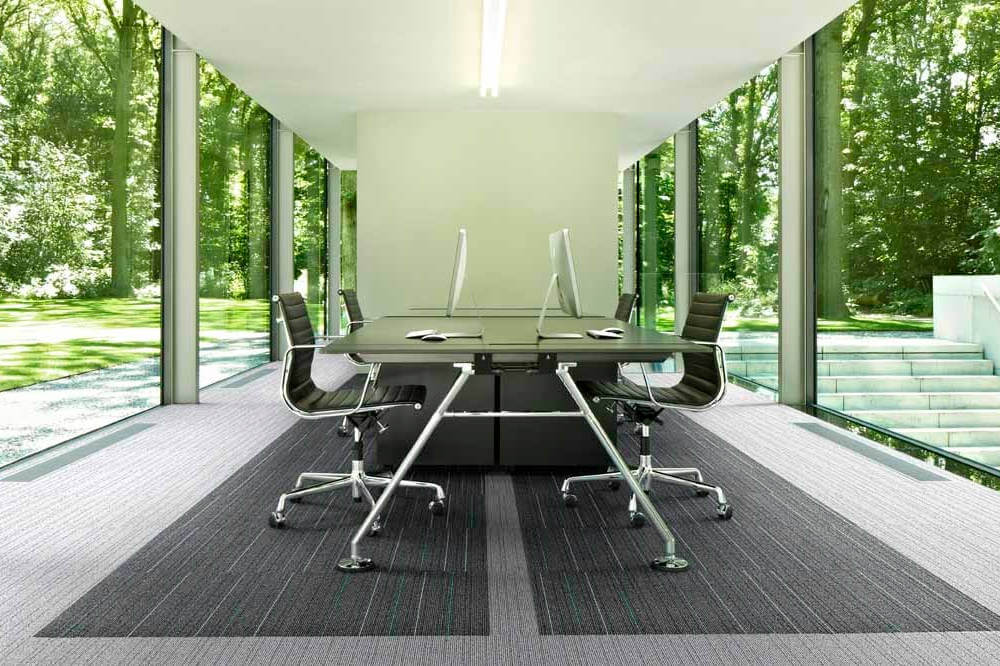 26 Jan

Carpet tiles: what's so great about them anyway?

Gone are the days when carpets and carpet tiles were only available in drab, dreary colours and had a thin threadbare look and feel about them. If you still think of carpets and carpet tiles in this way, then read on! Our aim this month is to change your mind and show you just how much carpet tiles can change your space for the better.
Range of design and colours
Nowadays carpet tiles are available in almost any colour you can imagine. Want a lime green or fuchsia colour? No problem! While most businesses may opt for less showy colours it is good to know that all sorts of colour options are available; perhaps you are involved in a more creative industry that is all about splashes of colour or you want to continue the theme of your logo and company colours to your business spaces as well. As well as colour options, the range of carpet tile designs is also wide and varied. You can now select from a variety of ready-made designs or even create your own if you want something bespoke.
Create texture in your spaces
The variety of textures in today's carpet tiles gives you an added opportunity to play around with your space and how you present it. From luxurious deep pile carpet tiles that offer a taste of opulence to a room, to functional ones that can be used in areas of high foot traffic without suffering too much wear and tear too quickly, the possibilities are vast when designing your new flooring.
Adaptable
Carpet tiles can be made to fit almost any space, adapting to the particular size and shape of your floor. They also work well on stairs and around doorways and bay windows.
Play with your space
The flexibility of design and colour and the ability to mix and match tiles provides infinite possibilities in designing and customising your space. Want to delineate a walkway or highlight a break-out area? Perhaps you want to colour code certain areas such as meeting rooms or quiet spaces. All you need to do is select a different type of carpet tile – be it colour, design, or style – and it can be done quickly and cost effectively.
Low maintenance
There is an added beauty to carpet tiles that is often overlooked: they are extremely low maintenance. Footfall will vary across a space, with corridors and common areas experiencing greater use and therefore faster wear and tear than those areas that are used less frequently. When this happens you only need to replace those tiles that are worn or damaged instead of re-laying the entire floor area, making it a much more cost-effective way of keeping your space looking clean and new.
Change it up every now and then
The versatility of carpet tiles also give you the opportunity to redesign your floor as often as you like. By replacing just a few of the carpet tiles with a different design or colour can transform a space quickly without costing the earth.
Convinced yet? If not, our Easifit Flooring team can answer your questions or talk you through the options that carpet tiles can offer your business. We stock the following manufacturers and suppliers of carpet tiles – Desso, Paragon, Forbo, Tessera, Burmatex, Gradus, JHS, Rawsons, Heuga Interface.  Just drop us a line on or give us a call on 0800 096 1171 and we will give you a free quote too.