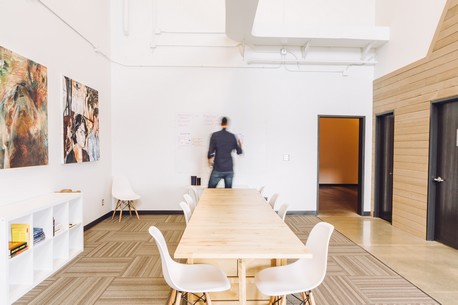 28 Mar

4 things to consider when deciding on office flooring

Refurbishing your office space can be an exciting task, but it is important to consider the physical aspects of your decisions, as well as the decorative ones. Whilst laying a new floor can generate a stylish aesthetic, it should also create a comfortable and safe space for your employees. Let's take a look at the factors you should consider.
What is your desired style?
Whilst the qualities within your choice of flooring can go beyond style, we understand the requirements behind creating an aesthetically pleasing and welcoming environment. From a solid colour to the replication of authentic wooden planks, flooring options can grant a whole host of opportunities for your office interior. With a range of options available on the market, such as carpet tiles and luxury vinyl tiles, strategic planning can also allow you to lay your flooring in a way that creates dedicated zones, removing the requirement for wall or divider construction.
What is the foot traffic like within your office?
A practical aspect that you will need to consider is the amount of foot traffic across your office. This will allow you to tailor your decision towards a floor type that will remain durable as time passes, preventing you from seeking repair or replacement work. You may find that certain areas of your office endure higher foot traffic, such as those around the printer or entrance to your premises, and so you should choose a type of flooring that reflects this. A professional will be able to advise you on suitable options.
Do you have a budget?
Whilst you may be considering a commercial flooring type that appears to be on the lower end of the budget scale, it is important to remember that this may reflect the quality of the product. Repair and replacement work can be costly and is not always required. Prevent the need to shell out for additional costs further down the line by selecting a cost-effective yet durable flooring type that is tailored to your office space.
What are your safety requirements?
Whilst refreshing the main floor of your office, you must also keep the surrounding areas in mind. This can include areas with a higher trip risk such as a stairwell, as well as those with higher moisture levels such as the kitchen or lavatories. Non-slip safety flooring can be an ideal fit due to its gripping qualities, as well as its easy to clean nature, allowing you to keep the areas exceptionally hygienic. Stair nosings, which are applied to the edge of stair treads, are important in creating a safer environment. They can significantly reduce trip hazards by providing additional slip resistance as well as a visual contrast to mark the next step.
What are your options?
With an abundance of commercial flooring styles available on the market, we would advise speaking with a professional flooring contractor who could provide you with reliable options for your office space. Most commonly at Easifit Flooring, we find ourselves laying the following flooring types within commercial settings:
LVT
Luxury vinyl tiles and wood plank vinyl flooring provide an appearance that mimics authentic wooden floors whilst sparing you from the requirement for regular maintenance.
Carpet tiles
Carpet tiles remain ideal for larger surface areas and can assist businesses that have a higher requirement for acoustic insulation.
Safety flooring
Safety flooring is the ideal option for locations with a higher moisture content, such as restrooms and kitchens where water spillages may occur. This flooring reduces slip risks and remains easy to clean.
For advice on the ideal flooring type for your office or on how to lay your commercial flooring in a way which forms direction or dedicated zones, get in touch. Our team here at Easifit Flooring will be happy to help. Give us a call on 0800 096 1171 or email us at  .