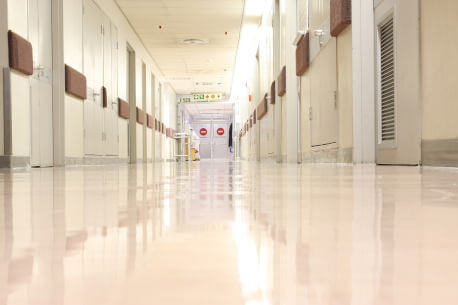 27 Apr

What flooring do you need in a clinical environment?

Like our National Health Service (NHS), flooring laid in a clinical facility needs to be hard-working, resilient, safe and hygienic, as well as fitting to the environment (and there are often many within a hospital setting) that it is serving – a bright, attractive theme may be suited to an entrance but not necessarily to a ward where healing and rest needs to be reflected.  Let's take a look at clinical flooring options that may be suitable for various departments within a hospital and consider the required attributes needed from your flooring to ensure it meets daily demands.
The entrance
As with most important meetings, first impressions count.  The entrance is the first area a visitor encounters when entering a hospital, so it needs to be welcoming, warm and inviting to help put an anxious visitor at ease. However, it is also the area that will see the most footfall – anyone entering and exiting the hospital will need to pass through here.  It is often a place where visitors tend to congregate – reception queries, location map, shop, refreshment facilities and toilets are often all huddled around this area, so your flooring will need to tick the 'super durable' box too.
In our experience, wood-effect vinyl flooring often referred to as Luxury Vinyl Tiles (LVT) would be a great option.  The natural beauty of wood flooring helps to add warm tones and create a stylish setting.  Wood-effect vinyl flooring allows you to replicate the look with minimal maintenance.  For added safety, this is available in a fully slip-resistant range.  With lots of styles to choose from, it's a great option for making a great first impression to visitors.
Wards, operating theatres and communal areas
They key here is obviously to maintain the most hygienic and clean environment possible whilst coping with a heavy traffic flow.  You'll want to opt for an easy-to-clean material that promotes cleanliness and when installed, keeps dirt and fluids from slipping beneath the surface of the floor.  Linoleum is a great fit for creating a fully aseptic space and is one of the most practical, hard-wearing, slip-resistant and durable flooring options on the market today. Linoleum flooring pretty much puts up with anything a clinical environment can throw at it – stains, spillages, scratches, chemical staining form medical products, bodily fluids, trolley scuffs and scratches, you name it, this heavy-duty floor will resist it.   On top of that it is made from 97% natural raw materials, it's low maintenance (no polishing, waxing etc), it's biodegradable, anti-bacterial and is approved by allergy UK for reducing exposure to indoor allergens.  Safety flooring is another good option to consider within clinical areas.  As one of Kent's leading flooring contractors we have close working relationships with many of the industry's leading safety flooring manufacturers, including Altro and Polyflor.
Corridors
Luxury Vinyl Tiles (LVT) or safety flooring are good options for heavy use areas such as corridors.  The constant flow of foot traffic, heavy rolling loads, such as trolleys, wheelchairs and equipment trolleys will need something durable and slip resistant.  Our safety flooring options will dramatically decrease risk of slipping and tripping enabling  staff and visitors to go about their day safely.  Rubber flooring could also be a good choice as it is not only tough, slip-resistant and hygienic, it also comes in some really bold colours and patterns which can help create clear directional paths to identify certain areas.
Capping and coving
Completing vinyl, rubber of safety floor installs with capping and coving will create a 'finished' look.  The coving allows your floor covering to be fitted up the wall and provides hidden structural support for the floor covering at a weak point.   Once your coving is fitted, we can add an additional capping strip to further enhance the beauty of the floor covering.  Capping strips also come in a variety of colours so they can be easily matched to your theme/interior décor.   When used together, capping and coving allows the floor covering to be continued up the wall at floor to wall junctions producing a neat and clean finish – vital in wet and sanitised areas. Find out more about the benefits of Cap and Cove flooring in our recent blog.
Safe, clean and durable, our flooring products are a top choice for the healthcare sector.  Whether for bright, attractive entrances and waiting areas, functional medial areas, or quiet wards and rooms, we have something to offer that fits the bill while maintaining the highest levels of safety and hygiene.  All clinical areas need to comply with Care Quality Commission (CQC) requirements which our team at Easifit are always happy to advise on so, if you'd like to chat further or seek advice on any of our products and services please do not hesitate to contact us.